Choices Gluten Free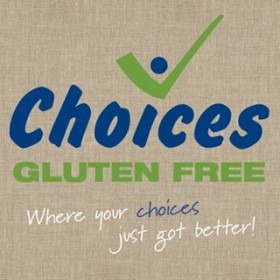 Choices Gluten Free bake a large range of wholesale gluten free and wheat free foods from basic sandwich bread through to pizzas and indulgent cakes. Read more about the company and their products.
Specialising in gourmet wholesale gluten free and wheat free bread, pizza bases, pastry, pies, cakes and desserts.
A wide range of the products are also egg, dairy, soy nut and corn free.
Vegan options also available.
Premises are HACCP accredited and 100% gluten and wheat free to ensure zero cross-contamination.
No artificial colouring, preservatives or flavourings are added to any products.
Gluten free pastry is available for consumers to bake at home.
Choices Gluten Free's website enables customers to search products by allergy.
Range is ideal for gluten free specialist retailers, health food stores, wellness retreats and mainstream cafes, restaurants and other food outlets.
The huge range of gluten free foods
Breads –Classic White Loaf; Crusty Italian Life; Fruit Loaf; Garlic Bread; High Top Loaf; Olive Focaccia Bread; Pumpkin & Herb Loaf; Rice Loaf; Three Seed Loaf (low GI); Wholemeal Loaf.
Buns – Bagels (plain or blueberry); Baguette; Cheese Rolls; Dinner Rolls; English Muffins; Finger Buns; Hamburger Buns; Hot Dog Buns; Panini; Par Baked Buns; Seeded Hamburger Buns (low GI); Wholemeal Rolls.
Croissants & Danish Pastries - Croissants and Danish Pastries in Apple & Cinnamon or Chocolate.
Pies & Pastry Products – Apple Pie; Beef Pie; Butter Chicken Pie; Curried Lentil & Potato Pie; Party Quiches (pack of 5); Party Sausage Rolls (pack of 9); Pie Pastry; Quiche; Sausage Rolls; Savoury Shortcrust Pastry and Sweet Shortcrust Pastry.
Pizzas – Margarita Pizza (9" or 11"); Mini Pizza; Pizza Base (Medium or Small).
Cakes & Desserts – Apple & Blueberry Crumble; Banana Loaf; Blueberry Friand (dairy free); Blueberry Muffin; Brownie; Caramel Slice; Chocolate Fondant; Cupcakes (chocolate and vanilla); Eggless Chocolate Cupcakes; Lamington; Lemon Meringue Pie; Lemon Tart; Neenish Tart; Peach Upside Down Cake; Raspberry Friand; S'more; Vanilla or Chocolate Cake.
Cookies – Chocolate Chip; Gingerbread Man; Shortbread; Shortbread Trees; Smilie Face.
Pantry Items – Breadcrumbs; Crostini; Muffin Premix; Pikelet Premix; Plain Baking Flour Mix; Banana Loaf Premix; Self Raising Baking Mix.
Easter – Hot Cross Buns and Chocolate Cross Buns.
Christmas – Christmas Cake (iced or uniced); Christmas Mince Tarts; Christmas Pudding; Christmas Pudding Mini; Gingerbread Man; Marshmallow Christmas Trees; Shortbread Trees.
Retailers
Expand your range to include gluten free foods and you'll pocket more dollars. Offer customers taste test so they can experience the flavours and textures.
Foodservice
Having gluten free foods on hand is essential to cater for the growing number of coeliacs and food intolerance sufferers.
Contact Choices Gluten Free today to place your first order.
---
Contact details for Choices Gluten Free
---