Interview - Barry Kitchen - Daintree Estates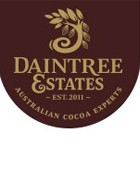 Did you know there is an Australian company selling chocolate buttons to chefs and chocolatiers in Belgium? That would be Daintree Cocoa Pty Ltd, proud innovators and producers of local cacao. The company's Executive Chairman, Dr Barry Kitchen filled us in on the culture behind the business.
FFW: Who is behind Daintree Estates?
DAINTREE ESTATES: Daintree Cocoa Pty Ltd (DCPL) was founded some seven years ago by a group of shareholders/entrepreneurs with experience in cocoa growing and processing and with knowledge of making and marketing cocoa and chocolate products. Founding shareholder/investors also included sugarcane farmers who decided to plant cocoa as a cash crop alongside their sugarcane.
FFW: What's your company's speciality?
DAINTREE ESTATES: DCPL is one of the few "Plantation to Plate" cocoa/chocolate businesses globally and its operations cover the entire Supply Chain, from the propagation of cocoa seedlings in our Nursery to the production, marketing and selling of the final chocolate made from cocoa pods harvested from the plantations. Our expertise covers cocoa growing horticulture, husbandry and post-pod harvest processing to produce high quality, dry fermented cocoa beans which are then roasted in-house, cracked and winnowed to recover the chocolate flavour bean kernels called nibs, which are then made into Australian origin chocolates.
We innovate in each step in this long and complex supply chain while we produce little if any waste material and run the business on a strong environmental/sustainability platform.
FFW: How closely do you work with the farmers?
DAINTREE ESTATES: Our farmers/growers are an essential part of our business; they are well paid for the pods they supply to us and we provide any technical help and assistance they may require. They are all shareholders and they participate in a share of the margins we make on the chocolate we sell.
FFW: Does your chocolate have a different flavour profile to that grown in the more traditional cacao-growing regions of the world?
DAINTREE ESTATES: Yes, our flavour is unique and reflects the climate and the soils in the FNQ region where we grow the cocoa as well as our post-harvest techniques which allow us to control the fermentation stage where the flavours that are developed flow through to the final chocolate flavour. By then controlling the drying of the fermented beans and the roasting, our chocolate is different to cocoa and chocolates from other cocoa growing regions globally.
FFW: So your chocolate is available in button form so chefs can create their own chocolates?
DAINTREE ESTATES: Correct, we product a Rich Milk Chocolate Button (45% TCS) and a Full Flavoured Dark Chocolate Button (70% TCS) which are used by many chefs around the country to create their own products. We have even exported these buttons to chefs and chocolatiers in Belgium.
FFW: Aside from the chocolate, do you use local ingredients where possible to make your bars and novelty products?
DAINTREE ESTATES: We use only Australia raw sugar in all our recipes and Australian milk powders in the Milk Chocolates. Our policy is to use as many local ingredients as possible in all of our products.
FFW: What are wine infused chocolates? They sound exquisite!
DAINTREE ESTATES: Our Wine chocolates use premium Australian Wines (Cabernet Sauvignon, Shiraz, Merlot and Pinot Noir) infused into Australian currants which are dried and added into our Base Dark/Milk Chocolate. We then add a compatible Natural Wine Flavour created for us by an Australian owned flavour company. Add all of this together and the outcome is exquisite and unique. Each chocolate delivers the flavour promise, we say. As far as we know, there is no other chocolate company in the world that that make such Wine Chocolate. The entire process and recipe was developed here in Australia.
FFW: Are any of your products gluten free, dairy free or accommodate any other considerations?
DAINTREE ESTATES: A number of our products are gluten free and all are preservative free and contain no artificial colours or flavours.
FFW: What are your Napolitains?
DAINTREE ESTATES: These are 6 gram wrapped pieces; Milk (45% TCS) and Dark (70% TCS) recipes for snacking and enjoying a small unique treat with the unique Australian chocolate flavour. They are available in bulk packs for use as 'turn downs' in hotels, motels or for foodservice use. For retail we have them in attractive counter dispensers as well as in packs of 12 or 18 units.
FFW: What would you say is Daintree Estates' positioning?
DAINTREE ESTATES: Our products are seen as mid-range to high end positioning and feature the unique tastes and smooth velvety textures typical of European chocolates.
FFW: Are your chocolates handmade?
DAINTREE ESTATES: The only hands-on steps are in the postharvest processing where the pods are hand-picked, hand split and all the fermenting, drying and roasting are manual hands-on operations. Some of our products are made in stone ground conches and hand tempered and packed. Most are manufactured from these handmade ingredients. Cocoa Nibs use typical larger scale chocolate processing equipment.
FFW: What are you most proud of at Daintree Estates?
DAINTREE ESTATES: Our "Plantation to Plate" story is unique and is a key part of our product and positioning differentiation. I am also proud of the sustainability and environmental aspects of the business.
FFW: Being such a proud producer of a local product, do you happen to admire any other similar brands of foods and beverages?
DAINTREE ESTATES: Any small producer of Australian primary products that keep the "Australianness" of their final value-added products is to be admired.
FFW: Who would be an ideal client or what would be an ideal application for your chocolates? [e.g. welcome gift for luxury cruise line passengers; served in First Class on airlines; added to goodie bags for Fashion Week, Logies or Brownlow event.]
DAINTREE ESTATES: Certainly Australian airlines, unique events, Fashion Week, sporting events; anywhere there is an opportunity to highlight Australian talent.
Businesses looking to offer their customers top quality, local chocolate products should explore the products available from Daintree Estates. Contact them today for more information or to place an initial order.
---
Contact details for Daintree Estates
---