Interview - Joanne Slater - Dorrigo Volcanic Foods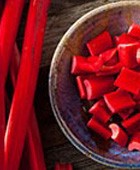 There is so much more to rhubarb than meets the eye. We know this because we recently interviewed Joanne Slater of Dorrigo Volcanic Foods and she told us some fascinating insights into this nostalgic vegetable. Yes, rhubarb is a vegetable!
FFW: Who is behind Dorrigo Volcanic Foods?
DORRIGO VOLCANIC FOODS: I was raised a scientist, majoring in mathematics and human nutrition. Before I became a farmer, I was a teacher and was hit from behind the head by a falling blackboard and experienced a head injury. From here I became somewhat obsessive with neurology and went back to uni to major in Neuroscience. From here I developed a neurotransmitter model that predicts inflammation and anti-inflammation cycles. I saw certain nutrients, vitamins and minerals are needed to activate anti-inflammation cycles and realised how important it is to be growing food free from chemicals and heavy metals, so these processes don't get blocked. I investigated foods that were exceptionally high in these important brain foods and red rhubarb is one outstanding vegetable, even though it's eaten like a fruit. It comes from the flavonoid family and levels of anthocyanins correlate with the redness in the stalks. It's nutrient dense, thought to help with weight loss due to high fibre and aids the digestive system.
So, in search for the deepest red seeds I found seed that had been selected for 40 years and only propagate the reddest, stringless and sweetest seed.
FFW: Where is your farm?
DORRIGO VOLCANIC FOODS: Dorrigo is a beautiful tidy town around 750m up on a plateau, 50 minutes inland from Coffs Harbour. It's home to world heritage rainforests and National Parks and you pass two waterfalls on your way on the highway called Waterfall Way. Dorrigo's soil is rich, red basalt from an old volcano, and rich in nutrients and minerals like iron.
FFW: What's special about the way your produce is grown?
DORRIGO VOLCANIC FOODS: Working with the beauty of the soil and helping to improve its qualities usual natural methods that energises biological systems like green composting. This process seems to maximise flavour and freshness. But really, we are just growing a product that thrives in Dorrigo's unique climate, soil and altitude.
FFW: Why does rhubarb seem to be making a comeback lately?
DORRIGO VOLCANIC FOODS: I think there is a big comeback for a few reasons. People are becoming more aware of health foods but the main reason I believe is because of the new generation of rhubarb plants that not only look beautiful and appetising but have an amazing taste that allows you to do anything with it. It can be made to suit your taste. It can be tart or can be very sweet. It colours food naturally and makes a great pink icing or ice cream. It can be exotic and added into savoury sauces or made into a sweet dessert sauce. It's even being used raw in salads. But it is so quick and easy to make a compote from it and pour it over your breakfast cereal, in yogurts, smoothies, or have it straight.
FFW: Would you say rhubarb is back in a big way?
DORRIGO VOLCANIC FOODS: Yes. With the world's top restaurants using it for a variety of dishes and creating novel ways to enjoy, customers are going home and trying it too.
FFW: Is rhubarb still the humble fruit it always was?
DORRIGO VOLCANIC FOODS: There is a rhubarb revolution, particularly overseas in fine dining. Australia hasn't quite caught up yet but it means that there is an opportunity to develop the market. Traditionally it has been reknowned as a dessert but now it can be used in so many new ways.
Everyone is converted instantly after tasting. Currently the world's number one restaurant is using rhubarb not unlike the one we are growing.
FFW: Are people surprised when they have their first taste?
DORRIGO VOLCANIC FOODS: People also say it's the nicest rhubarb they have eaten so it's a big hit with young and old.
FFW: Can rhubarb be used in savoury dishes as well as sweet?
DORRIGO VOLCANIC FOODS: With rhubarb you are only limited by your imagination. It can be used in so much, from drinks, yogurts and ice creams to sauces, soups, salads, liquors, garnishes and decorations, cordials, relishes and chutneys and I am also making roll-ups for kids' snacks.
FFW: Is there anything people need to know about cooking with rhubarb?
DORRIGO VOLCANIC FOODS: Rhubarb is best simmered gently. It quickly dissolves in minutes.
FFW: What kinds of retailers are selling your rhubarb?
DORRIGO VOLCANIC FOODS: This is our first fruit so it's very tender, sweet and delicious. We currently supply to local markets and health stores. We have enough production now to venture nationally and our goal is to eventually export.
FFW: What are rhubarb's health benefits?
DORRIGO VOLCANIC FOODS: There is a long list including the main Vitamins (K, A, E, C, B complex), folate, magnesium, selenium, calcium, iron, potassium and zinc. Also, Crypto-xanthin and
Lutein-zeaxanthin (thought to help reduce macular degeneration). It's like eating a multivitamin only with good fibres and very tasty.
FFW: What's your favourite way to enjoy rhubarb?
DORRIGO VOLCANIC FOODS: I enjoy rhubarb cooled after cooking it with a little dark sugar, natural yogurt with vanilla, lightly roasted pine nuts and fresh mint. Simple, quick and refreshing.
FFW: You offer second-quality rhubarb as well as first-quality; what is the difference between them?
DORRIGO VOLCANIC FOODS: The seconds are thin red stalks that haven't thickened.
FFW: Where would you like to see rhubarb showcased?
DORRIGO VOLCANIC FOODS: MasterChef would help educate and demonstrate to the Australian market new ways in which rhubarb can be used.
FFW: As a grower, you must be in touch with lots of other growers; are there any that you happen to admire for their innovation or the quality of their produce?
DORRIGO VOLCANIC FOODS: There are some excellent farmers who are using biological farming methods currently we are following Advancing Biological Farming, Gary F. Zimmer, Leilani Zimmer-Durand. But ultimately, I would like to follow Masanobu Fukuoka's footsteps to achieve a completely natural farm.
Now that you have a deeper understanding of rhubarb, its health superpowers and the many different ways to enjoy it, why not contact Dorrigo Volcanic Foods today and find out about stocking or serving it in your business?
---
Contact details for Dorrigo Volcanic Foods Rhubarb
Mobile 0459 415 138
Service Area Available Australia Wide
Mobile 0459 415 138
Service Area Available Australia Wide
---