Interview - Knowrish Well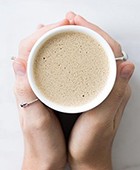 Health beverages are a booming sector and more consumers are enjoying trying new products. Boutique brand Knowrish Well produce a range of delicious Super Latte blends that offer health benefits in addition to flavour and satisfaction. Read on to find out how to make them and learn about the very virtuous ingredients the contain.
FFW: Who is behind Knowrish Well?
KNOWRISH WELL: We're a mother and daughter duo who want to change the perception that healthy foods are bland, tasteless or just straight up disgusting! We're passionate about making honest, clean food that doesn't just nourish you but makes you want to have fun and try new things with your food.
FFW: What are Super Lattes?
KNOWRISH WELL: All our range of Super Lattes are vegan, gluten and caffeine free. Each one contains different superfoods so you receive different benefits from them! In that way they aren't just a regular latte – they have body-loving benefits too.
FFW: Do you use colours to give them their beautiful, vivid appearance?
KNOWRISH WELL: No way!! That's cheating! From the outset we came up with our No Nasties Guarantee which means you won't find anything artificial in our products. Part of the magic of our Super Lattes is that they are so vibrant just by the amazing natural ingredients inside. Take Blue Dream for example, the beautiful blue hue comes naturally from the Butterfly Pea Tea that's inside.
FFW: Are they prepared just like lattes made on coffee?
KNOWRISH WELL: Something that was really important to us when it came to developing the lattes was to make sure they were really user-friendly. You add a serve of the powder into a glass then add your warm milk. Some of our customers like to add the powder then a tiny bit of hot water to dissolve the powder a bit then add the milk. They taste amazing on all types of milk too. As a vegan company we did most of our product tastings on almond milk but they taste great on cow's milk too.
FFW: Does your Shroom Brew taste like mushrooms?
KNOWRISH WELL: Shroom Brew is actually the most coffee-like of all the Super Lattes and tastes more like a regular latte, but without the caffeine. It comes back to our mission in that we want to make sure healthy food doesn't have to be bland, tasteless, or in this example – taste weird.
FFW: What are the lattes' health virtues?
KNOWRISH WELL: All of the lattes are vegan, gluten free and caffeine free! Each features different superfoods which of course have different benefits.
FFW: Can they be made with nut mylks instead of dairy milk?
KNOWRISH WELL: Definitely. As mentioned, when we developed this amazing range we were trialling them on nut mylks instead of dairy milk because increasingly people are turning away from dairy but they of course still taste amazing on dairy milk.
FFW: What is inulin?
KNOWRISH WELL: Inulin is a carbohydrate naturally present in many vegetables, fruits and cereals, including leek, onion, garlic, wheat, chicory, artichoke and banana.
Inulin's main feature is its prebiotic function as a soluble fibre. Prebiotics work by promoting the growth of specific beneficial probiotic gut bacteria, delivering a beneficial physiological effect on the body.
FFW: Do consumers tend to purchase your lattes for the flavour or for the health benefits?
KNOWRISH WELL: Initially consumers are buying Knowrish Well products based on health benefits but when they actually taste them they absolutely love them! We've had so much incredible feedback on the taste of our products which has been really validating for us.
FFW: Do you find café customers are purchasing your Super Lattes instead of, or in addition to coffee, particularly later in the day?
KNOWRISH WELL: Our customers say it's a combination – people like to switch it up and go for the Super Lattes when they don't feel like having coffee or caffeine.
FFW: Can children, pregnant and breastfeeding women enjoy your lattes?
KNOWRISH WELL: The Super Latte range is made on the basis of being a whole food powder mix.
From the ingredients, we cannot see a reason why you would not be able to consume these while pregnant or breastfeeding, as it would be similar to eating another food or drinking a chai latte. For children, there again would be no concern, other than taste preferences. We always recommend consulting a naturopath or doctor if someone ever has concerns or questions before consuming the product.
FFW: Are they easy to make, at home or in a foodservice environment?
KNOWRISH WELL: For our Super Lattes it only takes a couple steps to make, literally add hot milk and stir to combine! With our Coconut Chips you can enjoy them straight out of the jar.
FFW: Would you recommend that retailers offer taste tests??
KNOWRISH WELL: Products that rely a lot on taste always benefit from taste testing because consumers get that sensory appeal and experience. We offer taste test to shops that has repeatedly ordered or if the order amount is $300 or more. We also offer posters and recipe flyers.
FFW: Aside from regular retailers, what other kinds of businesses should offer Knowrish Well Super Latte blends?
KNOWRISH WELL: Healthy cafes, delis, health retreats, organic/vegan online stores, health boutiques, gourmet and healthy restaurants, wholesome organic supermarkets are all places we see our target market frequenting and being receptive to a nourishing, superfood latte mix like ours.
FFW: Can Knowrish Well be used in other recipes such as ice cream, smoothies and bowls?
KNOWRISH WELL: Our products fit so perfectly into a variety of dishes. The Super Latte mixes and Pitaya Blend can be used in anything from smoothies and ice cream to baking or raw desserts. The Coconut Chips range make an amazing topping on anything from avo toast to curries or desserts.
FFW: Do you have any recipes for other ways to serve them or cook with them?
KNOWRISH WELL: We create delicious all-vegan and gluten free recipes all the time to show the versatility of the products and inspire consumers. You can find them on our blog.
FFW: How do you make it easy for customers to do business with you?
KNOWRISH WELL: We're a boutique brand so we're really flexible with our stockists. We have no problem working with our customers to help support them with sales solutions.
FFW: Where would you love to see KNOWRISH WELL served?
KNOWRISH WELL: Outside of regular retailers, wellness retreats and day spas would fit the Knowrish Well product and value offering really beautifully.
Why not order an initial supply of these gorgeous Super Latte blends and try them out on your customers? Contact Knowrish Well today to discuss the best way to incorporate them into your menu or add them to your product range.
---
Contact details for Knowrish Well Super Latte
---