Interview - Marita Valenzuela - Pink Muesli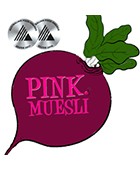 Beetroot isn't the first vegetable that comes to mind when you think of breakfast but one woman found that if incorporated regularly into the diet, it can reduce hypertension. We spoke with owner of Pink Muesli, Marita Valenzuela who told us about its flavour, texture and novelty highlights too.
FFW: Where did the idea for Pink Muesli come from?
PINK MUESLI: Beetroot has rid me of high blood pressure so I decided to create something with this wonder food. The more I learned about the health benefits of beetroot, the more determined I became to develop a product that would benefit and appeal to the general public. After a year or so of experimenting and market testing, Pink Muesli was born. The full story can be viewed at the company website.
FFW: Are all your muesli products made from beetroot?
PINK MUESLI: Yes, 40-45% of the product is made from raw, organic beetroot.
FFW: Why did you choose to dehydrate the beetroot instead of baking it?
PINK MUESLI: I first started baking it like my usual granolas. I achieved the flavour, crunch and texture I was after but not the colour. Dehydrating it not only achieved all of that but more importantly, retained the nutrients that make Pink Muesli nutritionally superior to all other cereals out there.
FFW: Do you use local ingredients in your products?
PINK MUESLI: I do source the ingredients that are produced locally from local organic farms so the food miles are very low. If not local, then Australia-wide. My products are made from are 80-90% Australian ingredients.
FFW: Are any of your products Paleo, grain free or gluten free?
PINK MUESLI: Yes, I have four that are gluten free and one that is all three of those.
FFW: Do kids enjoy Pink Muesli or is it more of an adult taste?
PINK MUESLI: Kids love it as much as adults do! Especially when their milk turns pink, it's fun for kids (young and old!).
FFW: What health and quality virtues do your products offer?
PINK MUESLI: All are vegan, no added sugar, low GI, all natural, no preservatives. All are dehydrated or dried so the nutrients are intact. Four are gluten free, one Paleo or grain free. All delicious!
FFW: Can Pink Muesli be enjoyed in other ways aside from breakfast?
PINK MUESLI: Absolutely! It's not just for breakfast. Sprinkle it on salads, desserts, as topping for chocolates, cakes, ice cream, the possibilities are endless! Sweet or savoury it works as a texture, flavour and nutritional booster. Plus it is so pretty, it's great for food porn!
FFW: Can you describe Pink Muesli's brand personality?
PINK MUESLI: Bold and beautiful!
FFW: Tell us about what kind of retailers would be perfect to stock your products.
PINK MUESLI: It is perfect for health food stores, specialty gourmet stores, health-conscious practices e.g. nutritionists, dietitians, personal trainers, etc.
FFW: What sort of foodservice businesses would be ideal clients for Pink Muesli?
PINK MUESLI: Trendy cafes and delis and high-end avant-garde restaurants would be perfect.
FFW: What kind of feedback do you receive from consumers?
PINK MUESLI: I receive overwhelmingly glowing feedback which is wonderful validation for my products but also for me to know that people enjoy it as much as I do.
FFW: Which variety is the stand-out favourite?
PINK MUESLI: Berries and Citrus & Ginger is by far, the favourite variety.
FFW: Are there any new flavours in development?
PINK MUESLI: Yes, I'm working on a coffee flavour variety and I am exploring incorporating traditional indigenous Australian ingredients into my next products.
FFW: What would you like people to embrace about your brand?
PINK MUESLI: Pink Muesli is a mother/son team of artisanal food producers in country Victoria. We produce an original Australian product that supports local Australian farmers. It is unique and beautiful so give it a hot pink go!
FFW: What are you particularly passionate about regarding your business?
PINK MUESLI: Pink Muesli is so different there is nothing else like it. I get a kick out of getting skeptics and beetroot or muesli 'haters' to just taste it and watching their paradigms shift. I am passionate about spreading the health benefits of beetroot as I am a walking testament to its healing powers.
FFW: As a boutique producer of a food product, do you happen to notice or admire other small food producers that you can tell us about?
PINK MUESLI: Yes, I admire all my suppliers who are small food producers themselves. Their dedication to maintaining the integrity of their produce inspires me to pass on this authenticity to my customers.
With such incredible health benefits, Pink Muesli is sure to be a new favourite for your customers. The colour, the flavour and texture are all fabulous bonuses. If you'd like to explore this exciting product for yourself, contact Pink Muesli today.
---
Contact details for Pink Muesli
---