Interview - Richard Boyd - Boneafide Broth Co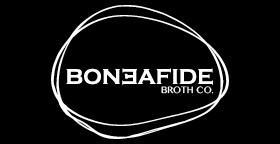 What if, instead of making messy, time-consuming bone broth, you could buy it in a format that is weightless, versatile, easy to carry, doesn't need refrigeration or reheating and is made from 100% clean ingredients? Read what Boneafide Broth Co co-founder Richard Boyd has to say!
FFW: Who is behind Boneafide Broth Co?
BONEAFIDE BROTH CO: Boneafide Broth Co is made up of two local Sunshine Coast families who all came from high performance backgrounds in sport and were looking for healthy, real food for themselves and their young families. Our employees are local residents with similar backgrounds and a passion for healthy food.
FFW: What exactly is bone broth?
BONEAFIDE BROTH CO: Bone broth is the result of taking, in our case, Organic Chicken or Grass Fed Beef and cooking slowly in water and extracting all the nutrients of the bones to make a liquid stock. What people are starting to understand is that these minerals and nutrients are plentiful and range from collagen and gelatin which is great for gut health and the digestive system to amazing electrolytes like calcium and magnesium. It also has nutrients that decrease inflammation, help the health of cells and immune system. It's what we like to call liquid gold!
FFW: How is your product different from what else is out there?
BONEAFIDE BROTH CO: We use the term "the world's most convenient broth products" to describe the different types of food we create. We were the first company in the world to dry broth this way to make a commercially viable food in all different formats from grocery to beverages and snacks.
It is almost weightless, and can be taken anywhere like hiking, camping, school backpacks, on the sea, you name it. It does not require refrigeration at all and just sits in your cabinet at home.
All of our dried products are shelf stable for up to 12 months, and we do not add one nasty into any of our products. What binds them is the proteins, the collagen and the gelatin in the food. We don't add salt, sugar, dairy, soy, fillers, additives, preservatives, gluten … it's completely clean.
We would even go so far as to say that our new Protein Broth Cookie could be the healthiest cookie on the planet!
FFW: How did you decide to go into business making this product?
BONEAFIDE BROTH CO: The founders, Sharlene and Chris Kelly had a frozen version of our Broth Bombs that people loved to make an instant organic cup of broth but in summer it would stick together if left out too long and was just a little messy. They found a very old and unique way to dry these bombs and since then we have created another 13 products using the same process but with different flavour profiles. Once we spent many attempts getting the entire process right, we realised that the taste coming out was better than it was going in and that it could last years if not exposed to the air. Then we knew we had an interesting business. The uses are endless. No more having to buy bones, cook for 12-24 hours, scrape off the fat, and then have it go off 7 days later. Now it's open the bag and consume the exact same thing instantly as Bites, Cookies, Bombs, Drinks.
FFW: Can you tell us the 'secret' behind it?
BONEAFIDE BROTH CO: We have two trade secrets that we keep extremely tight to our chest for the future sale of the business. One is how we make the broth and the process behind that and the other is how we dry it. It's our 'secret sauce'!
FFW: Is there any loss of nutrients in the drying process?
BONEAFIDE BROTH CO: There are many different ways to dry food; dehydration, spray drying, etc. The reason we chose the slowest and most expensive way to dry was we wanted to maintain as much of the nutrient value and structure of the minerals and nutrients during the process. We use the lowest heat of any drying process and this is all in an attempt to keep the full nutrient density and health benefits of the products we create
FFW: Does the product contain preservatives? What other virtues does it offer?
BONEAFIDE BROTH CO: We do not use anything as the base for our products other than Certified Organic chicken, organic turkey, grass fed beef and water. We do not add any preservatives or additives at all; completely clean.
Some of our products contain macadamia nuts, lemon myrtle, Himalayan pink salt but that is only to add taste, not for binding, preservation, shelf life. We are as clean as you can get.
FFW: Are your ingredients sourced locally?
BONEAFIDE BROTH CO: Yes, all of our meat is sourced in Queensland with a lot of it on the Sunshine Coast directly. We use a lot of macadamia nuts and lemon myrtle in our ingredients and they are all sourced locally. The only thing we can't claim to source locally or in Australia is Himalayan pink salt, for obvious reasons!
FFW: If the broth is made with just meat/chicken and water, how does it get its intense flavour?
BONEAFIDE BROTH CO: Our flavour profiles come from the drying process as the water is removed slowly; only the nutrients remain, and they contain all the flavour. Our Chicken Bites for example are possibly one of the strongest flavours you will find of any food in the market. Just intense!
FFW: Can children consume it?
BONEAFIDE BROTH CO: Our biggest purchasers for our Bites and Crisps are parents buying for their children's snacks. That is one of our proudest achievements as a company. There is nothing better than watching my 3, 7 and 9-year-old boys devouring organic broth every day and taking them in their bags to school.
FFW: What kinds of customers are perfect for Boneafide Broth Co products?
BONEAFIDE BROTH CO: Anybody looking for gut and immune health, healthy, non-sugar snacks and electrolytes for parents and children. They're also excellent as a pre- and post-workout, high protein food and good for Keto dieters, high allergy types, weight loss and a lot more.
FFW: How have you seen it being prepared in more unusual ways?
BONEAFIDE BROTH CO: Our Bone Broth Bombs are used in kitchens now to replace all traditional stock; they just drop into their soups and their base prep is done. People crush up the Chicken Crisps and sprinkle them on breakfast eggs and steak or even salads. Mostly though our food is designed to eat right there on the spot, or on the go, in the car, before your race.
FFW: What kinds of ingredients do your Broth to Go products contain?
BONEAFIDE BROTH CO: Our Broth to Go 12-ounce 'Thai' drink includes organic coconut, lemon myrtle, Himalayan pink salt, turmeric, ginger and our organic chicken broth powder.
FFW: What's the thinking behind the Broth to Go format?
BONEAFIDE BROTH CO: For people who want to get their daily hit of broth in a quick, easy way and people who like a strong Thai flavoured broth, not just the 'naked style' like some of our other products. It's really all about making our products fit today's busy lifestyles and provide world class healthy products on the Go!
FFW: What types of retailers are ideal to stock your products?
BONEAFIDE BROTH CO: Our retailers are a very mixed audience, ranging from butchers to boutique whole food grocers, small independent grocers, cafes, and restaurants
FFW: Are foodservice businesses using Boneafide Broth Co products?
BONEAFIDE BROTH CO: We are just launching with a foodservice distributor this week called Markris.
FFW: What's your favourite product and how do you typically enjoy it?
BONEAFIDE BROTH CO: I have two favourites: the Beef and Sun Dried Tomato Bites and the Broth to Go Thai 'Hot'. To be honest though, Chris the broth maker keeps coming up with amazing new samples every day and his new Mango Salsa with broth was out of this world (not for purchase, but maybe one day).
FFW: What is the shelf life of your products?
BONEAFIDE BROTH CO: 12 months on all our dried products.
FFW: Are your products suitable for Paleo, ketogenic and low carb diets?
BONEAFIDE BROTH CO: Our products are exceptionally good for low carb, ketogenic and Paleo diets because we don't add sugar and the carbs are literally zero on most of our products.
FFW: As a boutique food business, you must be aware of other small food producers doing great things. Any you'd like to share about?
BONEAFIDE BROTH CO: We love Kokopod Chocolate; their stuff is just YUM and they are also local and also a new product coming out that is a Duck Bun that we can't get enough of. We are going to be sharing kitchens with them soon and we told the owner she can just pay us in Duck Buns!
FFW: If you could get Boneafide Broth Co products in the hands of the most exciting client ever, who would that be?
BONEAFIDE BROTH CO: That's a tough one, because we do cross a lot of categories with our food. The answer could be a world class climber or athlete and many others, but the one I truly believe that would benefit the most from our product would be a national airline. Our product is almost weightless, and weight is everything to an airline; you just add hot water to a handful or our products and all planes have that. When I used to be an executive sitting on planes, I always wished for something that I could eat on the plane that was healthy, would keep my mind clear for my meeting once I got off the plane and offset all the negative effects that travelling has on your body.
Well it sounds like these products are the answer to many food and lifestyle needs! If you'd like to know more or are interested in placing an order, contact Boneafide Broth Co today.
---
Contact details for Boneafide Broth Co
---