Interview - Samantha Beard - Art of Whole Food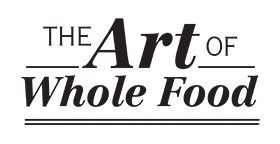 The Art of Whole Food is a proud, family owned business that offers quality food products designed to enhance wellness. Made from only the finest ingredients, each product is clean and nutritious. As Director Samantha Beard explains, they are easy to incorporate in the diet every day.
FFW: Who is behind The Art of Whole Food?
THE ART OF WHOLE FOOD: We are an Australian family business that is passionate about real foods, back to basics and sourcing the best quality ingredients for our products.
FFW: What inspired you to create this business?
THE ART OF WHOLE FOOD: We used to own a retail food business in Sydney and after studying nutrition and having a family of young children it was important to provide products to our customers and family that were wholesome, nutritious and tasted good. We had a lot of customers coming back to buy our bone broths in bulk and telling us how much better they felt when having them. From here I knew we had to expand and sell these to a wider audience.
FFW: What is the difference between bone broth and soups?
THE ART OF WHOLE FOOD: Bone broths are a great base for soups. Broths can be consumed on their own or many great ingredients can be added like noodles, vegetables, chilli, quinoa, etc. Soups are generally made with water or stock which is not slow cooked with bones for the maximum extraction of nutritional content. The benefits of broths vs stock are the slow cooking method, quality bones and a bit of apple cider vinegar.
FFW: Are your ingredients locally sourced?
THE ART OF WHOLE FOOD: Yes, we source our grass-fed beef from the Victorian highlands, chicken from NSW and organic vegetables from the east coast of Australia.
FFW: What kinds of retailers are ideal to stock your products?
THE ART OF WHOLE FOOD: Health food stores, independent supermarkets and grocers, delicatessens, boutique cafes with a focus on the current health aware market.
FFW: How are foodservice businesses using your Bone Broths?
THE ART OF WHOLE FOOD: The broths are great in foodservice; some cafes now have our broths in soup kettles for customers to buy a cup of broth instead of a coffee in the morning. Other food service uses are on the menu or as a base for a nutritious soup. The jellies can be turned out onto plates and have fruit, yoghurt and granola added as a wholesome dessert or breakfast. They can be sold in grab and go fridges in food courts as well.
FFW: Can your products be supplied in bulk quantities for foodservice clients?
THE ART OF WHOLE FOOD: Yes!
FFW: What is GAPS and how can your products help?
THE ART OF WHOLE FOOD: GAPS diet (Gut & Psychology Syndrome) was designed to naturally treat chronic inflammatory conditions in the digestive tract as a result of a damaged gut lining. The GAPS Diet focuses on removing foods that are difficult to digest and damaging to gut flora and replacing them with nutrient-dense foods to give the intestinal lining a chance to heal and seal.
FFW: What kind of feedback have you received from customers?
THE ART OF WHOLE FOOD: We have many customers from all over Australia saying they have had great results on our broths from things like chronic digestive issues, IBS, Crohn's disease and general joint aches and pains.
FFW: Do you happen to admire any other particular food and beverage brands who take great pride in their products?
THE ART OF WHOLE FOOD: There are so many inspiring Australian companies producing amazing products with a great ethos behind them which I've had the pleasure of crossing paths with and learning from.
Why not make contact today to learn how The Art of Whole Food's product range can fit within your business? Knowing the brand is so conscientious and authentic, you will find it easy to promote it to your customers.
---
Contact details for The Art of Whole Food
---