Interview - Shane Showden - Brancourts Cheese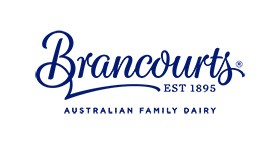 There's something very special about a company that's been around for generations and, amidst a growing trend of selling out to international buyers, continues to look forward to a future of family ownership and 100% Australian production. Shane Showden, Sales Manager at Brancourts tells us that the company is committed to ongoing growth and enjoys striving to uphold the long-standing values of quality, whilst earning multiple awards at the same time.
FFW: Having been around since 1895, Brancourts is a cheesemaking brand with a long and proud history; has it remained in the same family all this time?
BRANCOURTS: The current owners are fourth generation family members, and the business has remained family owned through its entire history.
FFW: Are there any significant claims to fame?
BRANCOURTS: The best claim to be made is that Brancourts is a "100% Australian Family Owned Business". This is an extremely important factor in today's declining manufacturing industry; to be able to stay committed to Australian farmers and Australian consumers is an amazing value in the current environment.
FFW: What were the first cheeses produced by Brancourts?
BRANCOURTS: Camembert and brie were the first cheeses produced by Brancourts.
FFW: How recently did Brancourts move into yoghurts?
BRANCOURTS: Brancourts have been producing yoghurts now for almost two decades; this has proven to be an integral part of our business.
FFW: Do you supply foodservice quantities of yoghurt as well as retail tubs?
BRANCOURTS: Foodservice is the core of Brancourts' business although we launched yoghurt targeted at both foodservice and retail markets due to the exciting opportunities that were present in both. Brancourts has been a leader in behind the glass (delis and fresh food outlets) presentation of yoghurt and toppings. These have included traditional toppings such as mango, passionfruit and berries through to rocky road, chocolate and apple and cinnamon to name a few.
FFW: How would you define the range of retail cheeses you offer?
BRANCOURTS: The ranges of cheese offered cover the most discerning cheese lover through to the ever popular toastie on a cold winter's night. Brancourts prides itself on being able to provide the more common varieties such as tasty or cheddar cheese through to the more evolving variants of fruit based, savoury or white mould camembert and brie. This complements the extensive range of fresh cheeses like Ricotta, Fetta, Haloumi, Farm Cheese and Cottage Cheese that we also manufacture.
FFW: And how about your food service cheeses?
BRANCOURTS: Although Brancourts supplies many customers in many areas and trade channels our niche remains with the traditional customers with our focus on fresh, shorter shelf life dairy products.
FFW: How do you work with your customers to deliver outstanding service along with your exceptional wholesale cheese and yoghurt products?
BRANCOURTS: Being a family business it is difficult to compete against the larger, more dominant manufacturers. With this in mind we pride ourselves on good old fashioned service where you are not just a customer; you are an integral part of our future and existence. No customer is too big or small and through our many distribution channels we offer a regular and friendly delivery service to make for a happy customer experience.
FFW: What kinds of retailers are selling Brancourts cheeses and yoghurts?
BRANCOURTS: Our products are sold through all trade channels; this covers the large national supermarket chains through to the local family corner store, cafe or deli. We aim to provide niche products into niche areas to maintain a sustainable future.
FFW: What would you say are your flagship products?
BRANCOURTS: Our focus remains on cultured products and fresh cheeses; these all form part of our core range and are classified as our flagship products. These include premium dessert yoghurt, ricotta cheese, fetta cheese, cottage cheese and sweetened condensed milk.
FFW: You've won so many awards for your products; is there an accolade you've not yet achieved that awaits fulfilment?
BRANCOURTS: Winning awards is a vital part of our continued success as this provides our customers and consumers with peace of mind that we always strive for world's best manufacturing practices whilst producing an award winning product. The only accolade we wish for is recognition and acceptance for the hard work the many employees within the business put in each and every day to make our business successful.
FFW: What are some stand-out virtues of Brancourts that you like to convey to customers and consumers?
BRANCOURTS: We have strong values that are an extension of being a 100% Australian owned and operated business. These are:
Support Australian farmers
Support Australian families
Support Australian produce
Give back as much as you can to your local communities
Reward our employees
Maintain traditional recipes and practices
FFW: Are there any exciting plans on the horizon for Brancourts that you can tell us about?
BRANCOURTS: With a great deal expansion in the last 2-3 years our plans for the immediate future are to build on our manufacturing expertise and look at introducing innovation and excitement into the dairy industry.
FFW: Describe for us a winning day at Brancourts.
BRANCOURTS: The best days are the ones when everything goes to plan and everyone can arrive home safe to their families with a smile on their face. Sure those big orders and awards help to keep the smiles.
In closing I would like to add about the importance of all Australians to continue to show support for their local manufacturers, local industry and Australian made and grown food. The horizon for local food manufacturing within this country is quite clouded and it is with the support of people that take notice of the Australian made or owned symbols that will provide a future for all to come.
Embrace and support a long-established Australian company that holds dear traditional values and high standards of quality and service. Contact Brancourts today to discuss your wholesale cheese and yoghurt requirements.
---
Contact details for Brancourts Cheese
---