Arancini 4 All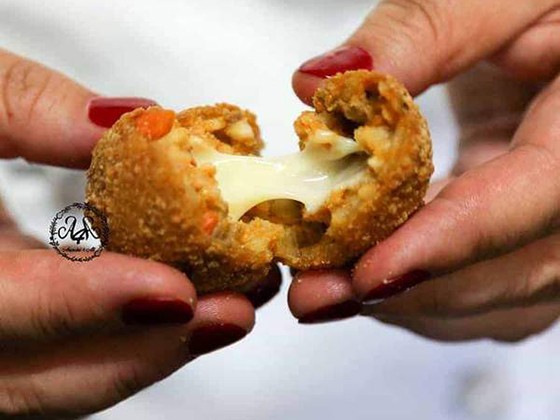 More Images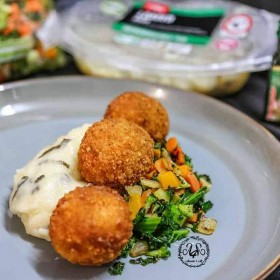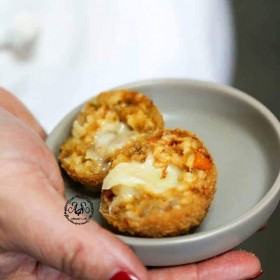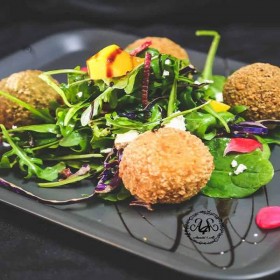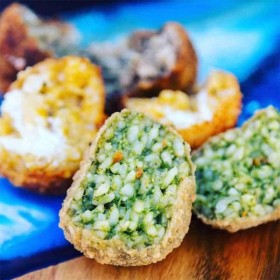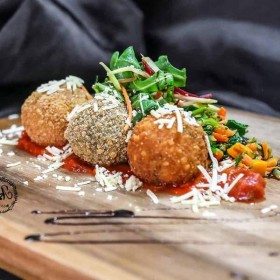 Arancini 4 All
Gourmet Wholesale Gluten Free Arancini
Arancini 4 All produce tasty wholesale arancini, loved for generations in Italy and now available in a handy ready-to-heat-and-serve format for Aussie consumers. Based on Victoria's Mornington Peninsula, the company sources as many ingredients as possible locally. What started as a cook-to-order market stall has evolved into a business selling sealed and frozen bulk, or family packs.
Arancini are irresistible risotto balls stuffed with tasty fillings, all rolled in rice crumbs and fried until golden brown. Each retail pack contains 500g, each catering pack is 5kg and each arancini is a 50g lovingly hand-rolled ball.
Looking after all your guests
ALL arancini from Arancini 4 All use rice crumbs instead of breadcrumbs, making them gluten free. Each variety has been tested by a microbiologist to contain zero gluten; some are also vegan/dairy-free as well as a low-to-no-FODMAP range.
The arancini are delivered frozen in biodegradable, recyclable, vacuum-sealed packaging. Store in the freezer for up to four weeks and once defrosted, refrigerate and consume within four days.
Gourmet wholesale arancini
Chefs Crystal and Grant are always creating, experimenting, and coming up with flavours that utilise the beautiful, fresh seasonal produce of local Victorian farmers. They often collaborate with retailers and producers to develop exclusive flavours for that business, featuring their special ingredients. One fun example is the Rum & Raisin Chocolate arancini developed with Jimmy Rum in Dromana.
The bite-sized arancini are free of added chemicals, colours and preservatives, and are cooked in 100% rice bran oil in the company's wheat-free kitchen. Once made, they are lightly sealed and frozen. They are sealed in tamper-evident, fully biodegradable containers. Orders are shipped to you as a frozen product.
The arancini are easy to prepare and simple to eat. When correctly deep-fried or air fried, they are crispy on the outside, and succulent on the inside. Arancini 4 All's arancini can be served as an appetiser, as canapes, as a side dish, a snack or even as a meal alongside vegetables.
Grass-Fed Grass-Finished Beef Bolognese & Mozzarella Arancini – Classic Italian flavours made all the better with quality grass-fed grass-finished beef. Low FODMAP option available.
Chicken Kiev Arancini – A delicious chicken risotto ball filled with Gippsland Jersey Butter and preserved Victorian garlic butter. Made with chemical-free, hormone-free chicken breast and locally sourced vegies.
Confit Duck & Cointreau Arancini – Step up to a new level of gourmet. They start with slow-cooked confit duck and it's then infused with a hint of Cointreau.
Spiced Apple Ham Hock Arancini – Infused with pale ale, these arancini are adored by beer lovers. The classic combination of ham hock and apples is extremely popular.
Vegetarian and Vegan Flavours
Roasted Butternut Pumpkin, Danish Feta & Rosemary Arancini – A favourite of vegetarians, these ones combine roast pumpkin, creamy feta, and rosemary. Low FODMAP option available
Roasted Portobello Mushroom, Thyme & Cream Cheese – Another vegetarian fave, packed with savoury mushroom flavours, parmesan and cream cheeses and flavoured with onion and garlic.
Basil & Macadamia Pesto Arancini – Dairy free and utterly delicious, basil and macadamia pesto arancini boast a fresh, nutty flavour, with the creaminess provided by vegan cream cheese. Vegetarian and vegan.
Ethical sourcing
As members of the Victorian Farmers Markets Association, Arancini 4 All have fostered special relationships with Victorian farmers producing premium quality, ethically farmed ingredients, and are proud to list their suppliers and the ingredients they buy from, which you can find on their website.
"Our arancini are made with LOVE. We pour our hearts and souls into each and every one. Our motto is: no food leaves our kitchen unless it tastes amazing!"
Crystal, Arancini 4 All co-owner and chef
Retailers
Stock Arancini 4 All in your delicatessen, frozen foods outlet, delicatessen, supermarket or convenience store for customers to discover. Consider offering taste tests as even cooking them in store will be a great temptation as the aromas waft around. The arancini can also be offered in gluten free specialty retail outlets as all products are gluten free.
Foodservice
Small foodservice businesses and caterers can include Arancini 4 All's arancini on the menu, particularly when it's necessary to cater for gluten free or vegetarian guests or those observing a low FODMAP diet. Perfect for food trucks, cafes, snack bars, pizzerias, school tuckshops and Italian eateries.
For more information or to place an order, get in touch with Arancini 4 All today.