Barchy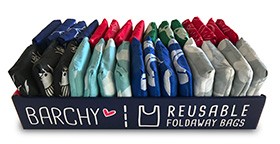 Barchy
Reusable Shopping Bags with Personality
Barchy was created by a creative Sunshine Coast mum with a keen eye for design and style. Her reusable bags are designed to be convenient and durable. With a couple of Barchy bags on hand, no one would ever want to go back to those drab, grey, one-use shopping bags!
Ditch those boring or bulky shopping bags and be functional, stylish and environmentally friendly with Barchy.
Barchy bags come with their very own matching pouch so they're not only easy to use, they're also attractive and practical. The pouches, which are 11cm x 11cm in size, attach to the bags and act as a pocket when the bag is in use.
Each bag holds approximately the same as would fit into 2 to 3 of the old, single-use plastic shopping bags. Barchy bags can hold up to 10kg of contents. Crafted from high quality 100% nylon, the bags are sturdy and lightweight and can be popped into handbags, glove boxes or even your pocket. They are machine washable in cold water so they'll stay lovely and clean and keep your shopping hygienic.
Bag dimensions:
Straps width - 7.5cm - (straps doubled over with fabric for extra strength)
Straps length - 63cm
Bag base width: 38cm
Top width - from base of strap - 51cm
Height of bag from base to top of strap - 62cm
Pouch dimensions:
11 x 11 cm
Attached to the bag
The Barchy Shopping Bag Range
Just like your customers, every Barchy bag has a distinct personality all its own.
Dachshunds – Hugely popular green and white bag with cute dachshunds and love hearts.
Birdie Num Num – Gorgeous red bag with white birdies.
It's a Bug's Life – Loveable white bugs on a black background.
Going Bananas – Bright blue bag with funky white bananas.
Sailing Away – Little white sail boats on a vivid blue background.
Watermelon Sorbet – White watermelon slices on a bright red background.
Confetti – Sweet light blue bag with irregular white polka dots.
Cloudy Skies – Grey background with puffy white clouds.
Retailers
Get on board with stylish reusable bags your customers will love to use! Keep them at point of sale for instant usage and create displays showing just how much Barchy bags can carry. Ideal for greengrocers, supermarkets, convenience stores, delicatessens, health food stores, bakeries, bottle shops, newsagents, chemists, confectionery outlets, food halls, butchers, homewares retailers and more.
For more information or to place your first order for wholesale reusable shopping bags, contact Barchy today.
---
More information about Barchy
Barchy Reusable Shopping Bags - Wholesale Catalogue
Browse the Wholesale Catalogue to see the full range of Barchy Environmentally Friendly Shopping Bags. Click here