Baylies Epicurean Delights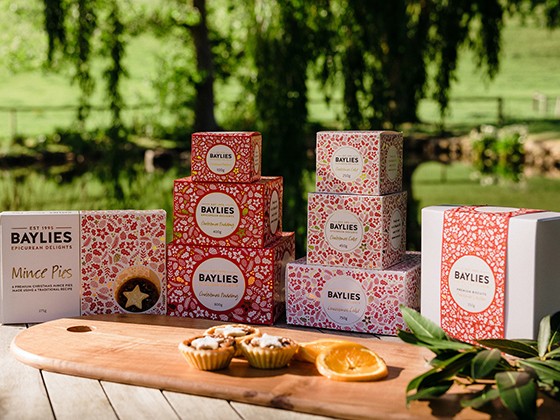 More Images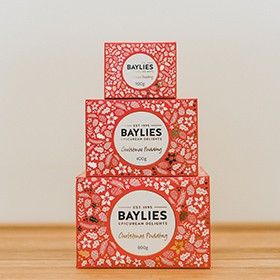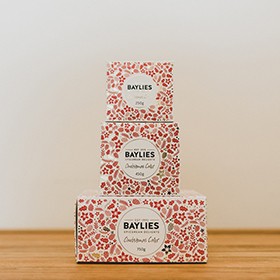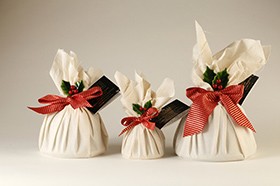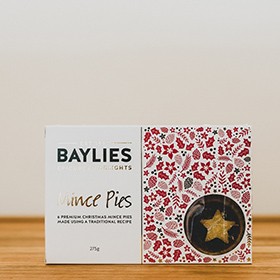 Baylies Epicurean Delights
Based in beautiful Woodside in the Adelaide Hills, South Australia, Baylies Epicurean Delights is the name behind beautiful gourmet fruit cakes made from premium ingredients. Using recipes handed down through generations, Baylies prides itself on exquisite flavours, textures and presentation.
Their lovely rich cakes are ideal for gift giving or serving at dinner parties to delight guests. Foodservice businesses will appreciate the fine quality of the products and be confident in serving them to customers as their own.
Muscat Gourmet Cake
Loaded with fruits and nuts that have been steeped in Muscat Wine sourced from the Barossa Valley, this glorious cake is rich, dense and flavoursome. The recipe also contains dark brown sugar, free range eggs and organic wholemeal flour. Slice thinly and serve for afternoon tea or to enjoy with coffee or champagne after dinner. Available in 70g, 150g, 400g and 400g gift box.
Panforte
A traditional Italian celebration cake, Panforte is enjoyed at Christmas and Easter in Italy. Fortunately, in Australia, you can enjoy it all year round. The recipe has been passed down through generations and features 92% Australian ingredients including almonds, vine fruit, organic wholemeal flour, apricots and fresh lemon. To make it truly indulgent, it also features the finest Belgian chocolate and spices from around the world. Cut into generous portions and dust with icing sugar then serve with coffee, dessert wine, fruits and cheeses. Available in 70g, 140g, and 290g gift box.
Shirley Soldier Cake
A sumptuous handmade and decorated rich fruit cake packed full of Australian vine fruit, garnished with cherries, peel and almonds and laced with a generous measure of Australian brandy. Shirley Soldier Cake is very moist and boasts wonderful maturing qualities. Serve with coffee, tea, a rich and sticky port or a dessert wine. Available in 450g and presented for gift giving.
Siena Cake
Originating from Siena in Tuscany, Italy, this cake is a white Panforte. It is rich in taste, made from a blend of candied citrus peels, almonds, hazelnuts, honey and the comforting spice flavours of cloves, cinnamon and pepper. Cut into generous portions and serve with coffee, dessert wine, fruits and cheeses. Available in 70g, 140g, 290g and 290g gift box.
Christmas Cakes & Puddings
Baylies Epicurean Delights offers luxurious Christmas Cakes and Puddings as well. Choose from cello wrapped or gift boxed cakes and gorgeous calico wrapped puddings. Made to traditional recipes with premium ingredients, they will be eagerly devoured at Christmas time.
Retailers
Position Baylies Epicurean Delights' gourmet fruit cakes for enthusiastic foodies who love to treat their guests to quality foods. Suggest them as gifts, for desserts, High Teas at home or for pure self-indulgence.
Foodservice
Baylies Epicurean Delights' gourmet fruit cakes are designed for extravagant enjoyment. Made using fine ingredients, they boast professional presentation and can easily be passed off as your own in-house goodies. Serve for morning or afternoon tea, desserts, suppers and at High Tea.
To place your first order, contact Baylies Epicurean Delights today.
---
More information about Baylies Epicurean Delights
Interview - Angela Bell - Baylies of Strathalbyn
Baylies of Strathalbyn is a supplier of biscuits, cakes, puddings and crackers. Located in rural South Australia, they are surrounded by quality food purveyors of all types and fit perfectly with the standard of foods produced in the area. We enjoyed chatting with Angela Bell, Sales Manager and bring you this interesting collection of tidbits. Click here