Bistrotea - Distributors Wanted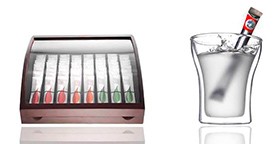 Bistrotea - Distributors Wanted
Distributors Wanted for the states of NSW, Vic, SA, WA and Tasmania
Bistrotea is the name behind Australia's most innovative tea product, the Tea Pod. The pods have gained huge popularity across Australia. The company is also introducing two new lines for 2018; Tea Capsules and Wellness Teas.
Tea Pods
Bistrotea introduces the T-POD (Tea Portion Of Design) an innovative product that has revolutionised the tea industry worldwide and is set to replace the traditional tea bag. The tea is packaged in fragrance protective designer foil in exact dosage, with no wastage, dripping or wringing and no need for a teaspoon. Bistrotea T-Pods contain real leaf tea and real flavour (not additives) in 9 exotic blends.
Having won numerous international awards this German innovation is now available in Australia. Stylish, chic and sophisticated, the gourmet tea of tomorrow is here today.
Tea Capsules
Tea Capsules are fully bio-degradable and compatible with Nespresso machines, so you can brew your beautifully created teas with the minimum of fuss.
Available in a variety of flavours including:
Black Tea - English Breakfast, Earl Grey
Green Tea - Peppermint, Lemon Grass, Ginger
Red Tea - Jasmine, Strawberry, Vanilla Peach
Plus NEW Matcha Teas exclusively created by Bistrotea's own Japanese Matcha expert.
Wellness Tea
The fully ORGANIC range has the purity of Single Origin Ceylonese tea leaves and only natural ingredients. Fully bio-degradable and created to release the teas to their full flavour potential.
Black Teas - Organic Harmony & Active Tea
Green Teas – Organic Detox Sencha & Regeneration
Herbal Infusions – Organic Herbal Tea
Fruit Infusions – Organic Revitalising Fruits
Bistrotea are willing to discuss distribution rights with any prospective businesses with a view to a trading partnership.
Bistrotea - TEAse your senses!
.
---