Boosey Creek Olive Oil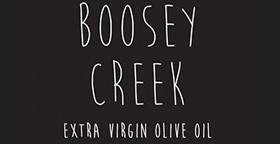 Boosey Creek Olive Oil
Distributors Wanted
Boosey Creek Olive Oil is an award-winning extra virgin olive oil. The olives are organically grown in the north-east of Victoria and include Nevadillo, Correggiola, Verdale and Manzanillo.
The company seeks Distributors to introduce their oil to retailers and foodservice outlets across Australia.
Tasting notes
"Aroma of melon and citrus. Soft on palate, flavours of banana and peach. Late, warm finish."
The oil
Boosey Creek's Extra Virgin Olive Oil is available in five different sizes, for retail and foodservice applications:
250ml bottle
500ml bottle
1L tin
5L tin
20L tin
The awards
Multiple award winners, the company was awarded 2011 Best Oil of the Show for their South Australian Verdale at The Australian Golden Olive Awards (North East Victoria). Then in 2012, at the 13th Australian Golden Olive Awards, hosted by The Olive Producers North East Victoria (OPNEV), Boosey Creek won a silver medal for the Manzanillo/SA Verdale blend and a silver medal for the Correggiola variety.
Since then, they have won three silver medals in 2014, a bronze in 2015 and gold and silver medals in 2016.
Retailers
Ideal for supermarkets, gift stores, delicatessens, greengrocers, Australian-made stores, health food stores and tourism outlets.
Foodservice
Offer this product to your restaurant, café and hotel clients.
To express interest in distributing this proud brand, contact Boosey Creek today.
---
More information about Boosey Creek Olive Oil
Interview - Boosey Creek Olive Oil
Small producers of locally-grown foods should be hailed for their tenacity and their determination to deliver quality products. We recently enjoyed learning more about Boosey Creek Olive Oil, whose humble beginnings are paying off with a top yield of around 2,000 litres. Click here