Campisi's Continental Butchery Meat and Smallgoods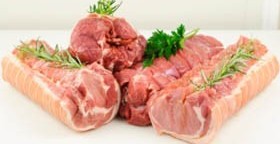 Campisi's Continental Butchery Meat and Smallgoods
Traditional Italian and Australian contemporary cuts of beef, veal, lamb, pork, goat and poultry
For traditional Italian and Australian contemporary cuts of beef, veal, lamb, pork, goat and poultry, Campisi's Continental Butchery is a well-loved, family owned and operated supplier of quality meats. Established by the 18-year old Giuseppe Campisi back in 1976, the butchery is also renowned for their award winning range of home-style Italian smallgoods.
All wholesale meats available from Campisi's Continental Butchery are Australian livestock, bred and grown under Australian standards. In some cases, local farmers breed their cattle purely for Campisi's purchase. Knowing how the cattle are fed and treated is an important part of the process so that Campisi's customers can make informed decisions and so that they can count on the quality on offer. Bangalow Sweet Pork is featured for its valued flavour and quality.
Campisi's Organic and Free Range Products
Campisi's Poultry
Smoked chicken
Spatchcock
Guinea fowl
Pheasant
Partridge
Turkey
Quail
Squab
Duck (Peking, Barberry and Muscovy)
Campisi's Game Meats
Wholesale game meats are also available on request including harder to source meats.
Venison
Kangaroo
Buffalo
Crocodile
Farmed white rabbits
Hare
Ostrich
Wild boar
Goat
Campisi's Smallgoods
Cacciatore
Salami
Sopressa
Prosciutto
Coppa
Pancetta.
Campisi's ready made meals
Campisi's Continental Butchery is a meat supplier with an ever expanding range of gourmet products. They offer a mouth-watering range of ready-to-cook, made on the premises, home-style recipes and meal ideas such as crumbed schnitzel, veal involtini, chicken kievs, chicken mignons, beef stir-fry, marinated quail, marinated lamb shanks, kebabs, marinated chicken ribs, lamb roulettes and gourmet roasts.
Campisi's Continental Butchery is an award winning wholesale meat supplier that guarantees top quality, outstanding variety and unparelleled customer service to the food service and food retail sectors.