Charlie's Fine Food Co. Mini Melting Moments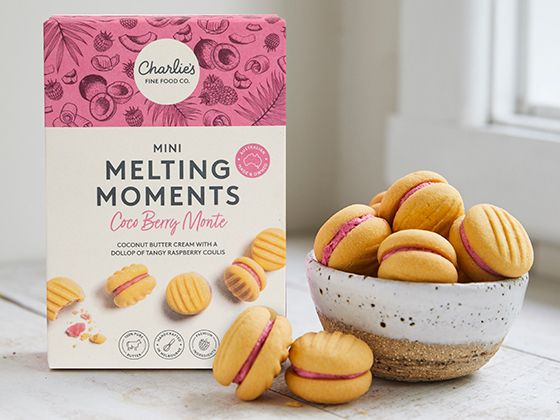 More Images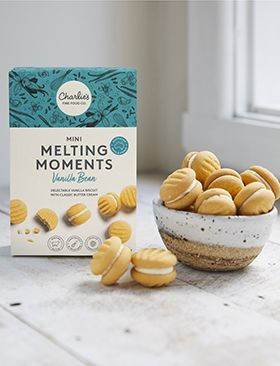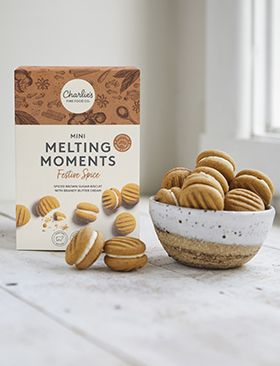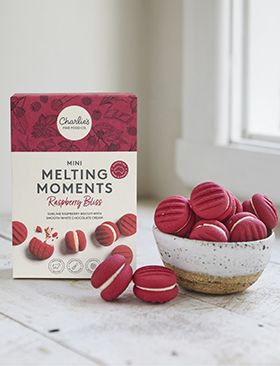 Charlie's Fine Food Co. Mini Melting Moments
Charlie's Fine Food Co. is one of Australia's finest wholesale cookie companies supplying incredible Mini Melting Moments to cafes, airlines, conference centres, hotels, corporate offices, clubs and retailers. Made entirely from scratch, they are available in four retro and contemporary flavours and they are absolutely delicious. The company itself is 100% Australian owned and all cookies are produced in its SQF certified Melbourne kitchen.
The Mini Melting Moments are created in fun colours and irresistible flavours and have a far longer shelf life than macarons. Available in beautifully designed packs or four or eight, they make superb gifts for loved ones or terrific indulgences for consumers to purchase for themselves. Over the years they have been an award winning product but don't take their word for it and try them for yourself.
The fabulous Melting Moment range
You can't get a much more Australian treat than our iconic Melting Moments, with our special recipe guaranteeing a melt in your mouth experience. Our range offers something for everyone. Our Vanilla Bean Melting Moments will win over the traditionalists, while the rest of our range offers a modern, fresh take on the classic taste with flavours like Raspberry Bliss, Cookies and Cream and Coco Berry Monte. Available in delightful gift boxes, it's no surprise our Melting Moments are enjoyed throughout Australia and the shipped around the globe.
Vanilla Bean - For Melting Moments purists who prefer not to venture too far from the classic recipe. Delectable Vanilla melting moments sandwiched together with classic butter cream.
Raspberry Bliss - Sweet and tangy Raspberry melting moment sandwiched together with a smooth White Chocolate cream.
Cookies and Cream - Melt in your mouth Dark Chocolate Melting Moment sandwiched with rich velvety butter cream with Dark Couverture Chocolate.
Coco Berry Monte - Classic Brown Sugar melting moments sandwiched together with Coconut Cream and Raspberry Jam.
Festive Spice - Spicy melting moment with Cinnamon, Nutmeg and Ginger flavours sandwiched with Brandy Cream in between. (Available for Christmas)
The very shape of Charlie's Fine Food Co. Mini Melting Moments beckons the consumer to pick one up and enjoy; plump, round and with those familiar stripes pressed into the tops, they invoke childhood memories and beg to be popped into the mouth.
Retailers
The moment you see the attractive packaging of Charlie's Fine Food Co. Mini Melting Moments, you'll be sold! Your customers will adore the colourful and thoughtfully designed boxes and can choose from four or twelve to take home. Already available in some of Australia's finest food stores including Harris Farm Markets and Independent Gourmet Grocers and hampers. Be ready to say yes when your customers ask for them by name.
Contact Charlie's Fine Food Co. today to order your first batch of top quality Mini Melting Moments.
---
More information about Charlie's Fine Food Co. Mini Melting Moments
Mini Melting Moments by Charlie's Cookies
Charlie's Cookies' Mini Melting Moments are setting a new trend in wholesale cookies for cafes, corporate offices, clubs, airlines and more. Read about the company behind these delicious, plump morsels. Click here