Chocolaty Raw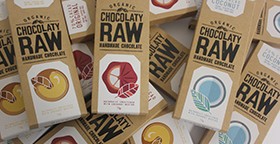 Service Area Australia Wide
Chocolaty Raw
Organic, Raw, Vegan, Dairy Free Chocolate Bars
Chocolaty Raw is delicious organic, raw, vegan, dairy free chocolate, sweetened with coconut nectar. It's handmade in Melbourne, wrapped in super cool black and white paper and packaged in attractive cardboard sleeves. The ultimate guilt-free treat, it boasts a ton of healthy virtues:
Raw
Vegan
Handmade
Organic
Dairy free
Refined sugar free
Paleo
The flavours
Each flavour is sweetened only with organic coconut nectar and made even richer with the addition of organic coconut oil.
Original – Handmade in Melbourne using only the finest quality ingredients, Chocolaty Raw Organic Chocolate comprises 70% cacao.
Coconut – A 70% cacao chocolate featuring the satisfying texture of organic coconut.
Nuts – A 70% cacao chocolate blended with organic cashews, organic walnuts and organic brazil nuts.
Mint – Deep, rich 70% cacao chocolate flavoured with refreshing peppermint essential oil.
Nib Crunch – The same 70% cacao chocolate made crunchier and darker with the addition of cacao nibs.
Retailers
Stock Chocolaty Raw for your customers who are looking to boost their diets with the superfood, cacao and reduce their intake of refined sugars. Chocolaty Raw makes an excellent gift and can be included in Paleo-themed gift hampers or given to those who are vegan or lactose intolerant. Ideal stockists include: independent supermarkets, delicatessens, health food stores, vegan outlets, gift retailers, pharmacies, newsagents and greengrocers.
Foodservice
Use Chocolaty Raw in your chocolate dessert recipes or serve it with coffee or tea. It will be a welcome addition to hotel mini bars, can be served shaved or melted over coconut yoghurt, added to acai bowls and sprinkled over the top of almond or soy cappuccinos.
For more wholesale information, get in touch with Chocolaty Raw today.