Coco Chocolate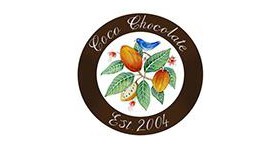 Coco Chocolate
Award-Winning Handmade Organic Chocolate
Coco Chocolate specialises in award-winning handmade, graded organic chocolate of the finest quality. Only 'real' chocolate is on offer, made with high cacao content, expensive, delicious cacao butter and real vanilla. All Coco Chocolate is gluten free.
The cacao couverture sourced for tempering at Coco Chocolate is ethical and producers are members of SEDEX. Coco Chocolate are advocates of organic farming, ethically traded chocolate and non-GM ingredients, are registered with the ACO and have a certificate of compliance.
The products are made by artisan chocolatiers in Australia with the chocolate traditionally hand tempered on marble. They are created with the finest fruits, nuts, liqueurs and Herbies' spices and peppers.
Beautifully packaged, every single item in the range is suitable for gift giving, either for personal special occasions or for corporate gifts. There truly is something for every taste, including those who choose to avoid sugar, and vegan chocolate lovers as well.
Coco specialises in collaborations and can create bespoke ranges for minimum orders. Coco Chocolate has current collaborations with Campos Coffee, Giovanni Pilu and David Jones Signature. Coco designed the I Quit Sugar Easter range for Sarah Wilson and has a popular range of No Sugar No Sweetener bars for the popular no sugar market.
Coco produces signature art series boxes and includes themes popular with gift stores, premium delicatessens, prestige real estate agents and florists alike. Popular themes include a Travel Box, Welcome Home Box, Hula Coco and Best of British. All boxes are designed to be kept after the chocolates are eaten. For gift boxes, Coco produces chocolates with a 12-month expiry.
Coco specialises in cacao butter artwork for bespoke chocolates for prestige car agents, alcohol companies including Dalmore Whiskey and Glennfiddich, prestige hotel groups, Victor Churchill and David Jones.
Dark Chocolate Bars
All handmade from decadent, top quality dark chocolate, Coco Chocolate's bars are available in a range of outstanding flavours or simply as unadulterated dark chocolate.
Plain – 99%, 90%, 80%, 74%, 64%.
Caramel, Pine Nut & Sea Salt
Ground Coffee
Orange, Lemon & Geranium
Roasted Hazelnuts & Sea Salt
Rose & Black Pepper
Cardamom & Cinnamon
Chilli
Earl Grey Tea
Lime & Coconut
Peppermint
Pink Peppercorn & Nutmeg
Haggis Spice
Ginger & Date
With Rosemary
Christmas Bar with Gold, Frankincense & Myrrh
Easter Hot Cross Bun Spice Dark Bar
Aztec
Raspberry
Pink Peppercorn & Spice
Handmade Dark Chocolate No Sugar with Sweetener
Blackberry & Lime with No Sugar and No Sweetener
Mixed Spice with No Sugar and No Sweetener
Campos Coffee Collaboration Bar
Milk Chocolate Bars
Handmade from fine milk chocolate, featuring incredible exotic ingredients to delight any discerning chocoholic.
Caramel, Pine Nut & Sea Salt
Roasted Hazelnuts & Sea Salt
Rose
Coconut
Honey & Almond
Lavender
Rose & Ginger
Christmas Spice
Easter Hot Cross Bun Spice
Milk Chocolate with No Sugar with Sweetener
Pilu & Coco Milk Chocolate with Almonds, Dates & Amaro Honey
White Chocolate Bars
Luscious, silky white chocolate bars, handmade and featuring mouth-watering ingredients to create coveted treats for gifting or self-indulgence.
Plain
Cardamom & Cinnamon
Mixed Berries
Rose & Bergamot
Strawberry & Pepper
Cranberry, Cinnamon & Nutmeg
Easter Hot Cross Bun Spice
Pilu & Coco White with Coffee & Cinnamon
Chocolate Boxes
A divine array of precious chocolate gift boxes for any occasion.
The Coco Siren Collection – Art and chocolate combined in 18 little squares, gift boxed.
Coco Children's Freckle Box – 12 large Freckles made with organic milk chocolate.
Coco Marc De Champagne Truffles – Fresh cream dark chocolate truffle with champagne, enrobed in white then pink chocolate.
Coco Mixed Collection – Assorted milk, white and dark chocolates in best-selling flavours.
Coco Swellegant Collection – 48 elegant chocolates for swell dinner parties!
Coco Fresh Double Cream Salted Caramel Truffles (dark) – A decadent truffle filled with salted caramel made with fresh double cream and enrobed twice in organic dark chocolate.
The Official May Gibbs Collection – Organic white, milk, dark and mixed chocolates with official May Gibbs artwork on every chocolate.
Coco Aphrodisiac Collection – Stunning chocolates with aphrodisiac properties, presented in Coco Art series box.
Coco Tattoo Love Collection – 12 stunning plain chocolates in milk, white and dark, with 'end of pier' tattoo artwork.
Coco Artist Collection – Gorgeous sugar coated chocolate fondant splattered with edible paint and presented in Picasso-inspired Coco Art Series box.
Coco Assorted Creams – Sweet sugar fondant cream in 64% organic dark chocolate, with artwork. Strawberry, orange, peppermint, vanilla, rose and violet.
Coco Christmas Collection – Cocoa butter artwork over cranberry, cinnamon and nutmeg milk, white and dark chocolate.
Coco Handmade Praline Golfballs – 12 praline golfballs with organic dark and white chocolate.
Coco Handmade Artwork 25 Days of Christmas – The most delicious advent novelty ever!
Coco Peanut Butter Truffles – Available in milk or dark; smooth peanut butter blended with real organic chocolate, and topped with chopped salted peanuts.
Organic Dark Chocolate with Rose & Black Pepper – 2 chocolate discs of organic dark chocolate with rose and black pepper. Also available as Organic Milk Chocolate with Rose.
For the full range, please see the Coco Chocolate website.
Chocolate Gift Bags & Cubes
There is something to utterly delight any gift recipient in Coco Chocolate's range of gift bags and cubes, beautifully presented so that the gorgeous contents are entirely visible.
Coco Cocoa Dusted Almonds
Coco Handmade Organic Chocolate Shards with Raspberry
Coco Handmade Organic Shards with Hazelnut & Sea Salt
Coco Lollypop POP!
Famous Salted Caramel
Coco Chocolate Gourmet Cubes
Coco Freckles
Coco Handmade Organic Chocolate Shards with Mixed Berries
For the full range, please see the Coco Chocolate website.
Hot Chocolate/Cocoa
Winner best hot chocolate in Sydney by Time Out magazine and Concrete Playground
Coco Chocolate presents Coco Artisan Flaked Drinking Chocolate in an assortment of exquisite flavours made with premium ingredients. Stunningly presented in gift packaging, these 250g packs are the stuff of chocolate dreams! Also available is café 1 kilo bulk bags.
Plain
Cardamom & Cinnamon Dark
Cardamom & Cinnamon White
Chilli
Cinnamon
Lavender
Nutmeg
Aztec Blend
Black Pepper
Lemongrass, Lavender & Vanilla White
Rose & Black Pepper
100% Valrhona Cocoa Powder
Retailers and gift hamper companies
Add Coco Chocolate to the high end selection of chocolates in your store and tout its conscientious virtues as well as the premium quality of the ingredients used. Any product would take pride of place in a chocolate-themed gift hamper so consider creating packages around the brand and include 'hero' items from Coco Chocolate.
Foodservice
When quality is of the utmost importance, you can count on Coco Chocolate for that special element of decadence. Incorporate the products in your desserts, on your high tea menu and as welcome gifts for guests staying in your hotel.
To discuss your requirements or to place your first order, contact Coco Chocolate today.