Cookie Cups by Priestley's Gourmet Delights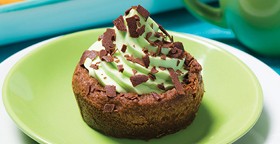 Cookie Cups by Priestley's Gourmet Delights
It's always Cookie Cup time
They're cute and quirky, easy to serve, colourful and absolutely scrumptious! Cookie Cups by Priestley's Gourmet Delights are gorgeous cups of baked cookie dough filled with luscious ingredients that will make your customers want another, and another.
They come in packs of 8 and a variety of different flavours, including gluten free, they will instantly attract the eye of your sweet-toothed customers who are looking for something a little different.
The flavours
Choc Nut
The flavour favourite for the young at heart, it features velvety chocolate infused with hazelnut, sitting in a white choc chip cookie cup and sprinkled with delicate hazelnut chunks.
Strawberries & Cream
A tantalising trio of light and fluffy strawberry cream swirled in a dense chocolate cookie cup with crunchy white choc chips.
Choc-O-Mint
Deliciously refreshing like a summer breeze. Light and airy mint mousse rising from a chewy choc cookie cup.
Caramel Crunch
Savour the rich creamy caramel sprinkled with crunchy honeycomb chunks, hiding a choc coated pretzel in a choc chip cookie cup.
Lemon Rumble (gluten free)
Irresistible flavour burst of creamy citrus cradled in a gluten free cookie cup topped with a sprinkle of long-thread coconut.
How to serve Cookie Cups
Serve as a dessert with ice cream, cream, coulis, fruit compote, chocolate shavings or chocolate, caramel or strawberry sauce.
Or, position on your dessert buffet as is where their colourful appearance will make them popular with all.
Excellent for catered events, high tea and to simply serve with a great cup of your best coffee or tea.
To discuss your requirements or to place your first order, contact Priestley's today.