Dante's Coffee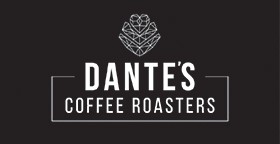 Service Area Available Australia Wide
Dante's Coffee
Dante's Coffee
Dante's Coffee, award-winning coffee roasters based in Perth, Western Australia are seeking exclusive Distributors for their retail and foodservice products.
A family owned and operated company, Dante's Coffee are boutique contract coffee roasters that value relationships, customer service and product quality in everything they do. Their mission is to promote their clients' businesses by customising a high-quality signature product for them and packaging it to the clients' branding. They do not promote their own brand, preferring to focus on their clients' ongoing success, which in turn guarantees their own.
The coffee
Dante's create single origin and blends for clients. They offer three featured blends plus a decaf variety:
Inferno – Sublime power, body and richness, the ideal espresso blend. Cuts through milk boldly.
Paradiso – A highly sophisticated blend of nine different coffee origins. Perfect as espresso or with milk.
Genesis – An original and complex blend of 100% Arabica from five different origins. It's an expression of rich and full-bodied flavours, balanced with fine chocolate overtones. Enjoy as an espresso or with milk.
Award winning Mexican Organic and Decaf – Mountain Water decaf uses clear, pure glacial water from the highest mountain in Mexico. Certified organic.
Retail Distributors
Distributors with retail clients should have access into, and a proven track record with specialty product lines in specialty gourmet grocers in Adelaide, Melbourne, Sydney, Canberra, Darwin and Brisbane.
Foodservice Distributors are also welcome to express interest.
Prospective Distributors should send their expressions of interest via the contact form on this page and a representative of Dante's Coffee will email or call you back as soon as possible.