Dineamic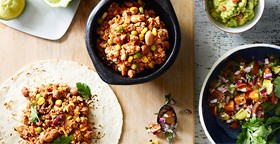 Dineamic
The meal you'd cook yourself if you had time.
Amongst a world of ever-changing diets, fads, health tips, new super-foods and the growing prevalence of intolerances to food groups, one thing has remained steady across the decades – the key is simple, healthy eating.
Dineamic makes it fabulously easy to eat healthy and eat well, with absolutely minimal effort. Their extensive range of ready-to-eat meals, juices and grab 'n' go snacks focuses on flavour, freshness and excellent nutrition. Dineamic is a premium product, with the proven credentials of chefs, athletes and sports dietitians, for people who aspire to be better — one meal at a time.
Ready-to-eat meals are packaged for the ultimate in convenience. Just heat up in the pouch, serve and eat. No shopping, chopping, mess or stress.
All products are gluten free, 96%-99% fat free and contain no added preservatives. Many products also cater to dairy free, vegetarian and vegan dietary preferences.
Dineamic, the meal you'd cook yourself, if you had the time.
Soups
Broccoli, Spinach & Kale Soup
Chicken & Corn Soup
Sweet Potato, Coconut & Turmeric Soup
Rustic Tomato & Ancient Grains Soup
Risottos & Paellas
Tuscan Vegetable Risotto
Chicken & Mushroom Risotto
Beetroot & Dill Risotto
Chicken & Chorizo Paella
Main Meals
Moroccan Chicken Tagine
Slow Cooked Mediterranean Beef
Chicken Burrito Mix
Thai Red Tofu Curry
Beef Bolognese
Cold Pressed Juices
Cold Pressed Beetroot, Carrot, Celery & Apple Juice
Cold Pressed Celery, Kale, Cucumber & Apple Juice
Cold Pressed Celery, Kale, Cucumber & Green Capsicum Juice
Healthy Snacks
Camu Camu, Chilli & Cacao SuperBar
Carrot, Pepita & Tahini SuperBar
Cacao, Espresso & Chia SuperBar
Pumpkin, Maca & Almond SuperBar
Retailers
Your customers will appreciate the outstanding quality and range of options available from Dineamic. Keep your chiller stocked with an array of dishes that they can purchase on the go, and lunch or dinner will be ready in a flash. Dineamic's meals, juices and snacks are ideal for supermarkets, convenience stores, food halls and delicatessens.
Foodservice
When convenience is vital but you need your food to be chef-prepared and full of flavour and freshness, Dineamic's 3kg bulk bags are the perfect solution. Ideal for restaurants, cafes, caterers, functions/events, corporate catering and self-serve kiosks.
To discuss your retail or foodservice requirements or to place your first order, contact Dineamic today.