Duck Creek Macadamias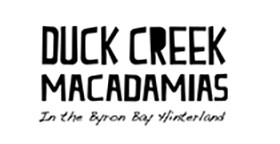 Duck Creek Macadamias
Macadamia Nut Gift Lines
Lovers of nuts particularly love macadamias! When it comes time to give a nut lover a lovely present, you can't go past Duck Creek Macadamias, artisan growers and producers of premium macadamias in the glorious Byron Bay Hinterland. Every plump, buttery nut is handpicked and flavoured with delicious ingredients. Think honey-roasted macadamias dunked in rich milk, white or dark couverture chocolate. Or what about those with a savoury tooth? How about rosemary and sea salted macadamias? There's plenty of choice and everything looks gorgeous in quirky, fun, colourful packaging. The award-winning Duck Creek Macadamias range is popular with tourism outlets for its local provenance attributes.
More than nuts
Duck Creek Macadamias also offer macadamia fudge and honey! Now you can create gift hampers for the true macadamia connoisseur.
Premium Gift Tin
A deluxe tin packed with 16 glorious Duck Creek Macadamia chocolates in milk and dark. The nuts are honey-roasted, smothered in chocolate and individually wrapped to create a truly special gift.
Premium Gift Tray
Twelve delicious, premium, honey-roasted macadamias enrobed in milk couverture chocolate, individually wrapped and presented in an attractive gift box.
Artisan Gift Tin
Honey-roasted macadamias covered in couverture milk chocolate and presented in a collectable tin.
Premium Jar range
Presented in reusable, transparent plastic jars, these coated and flavoured macadamias will make mouths water on sight! Available in small and large. Choose from:
Dark, Milk and White Chocolate Over Honey Roasted
Dark Chocolate Coated Macadamias
Milk Chocolate Coated Macadamias
Orange Dark Chocolate Coated Macadamias
Mocha Dark Chocolate Macadamias
Honey Roasted Macadamias
Trio of Chocolate Coated Macadamias
Edward Box range
The quirky, colourful boxes feature tempting pictures of the products within. Each is 180g and just made for gift wrapping!
Belgium Salted Caramel Over Roasted Macadamias
Dark Chocolate Over Honey Roasted Macadamias by Edward D Duck
Dark, Milk & White Chocolate Coated Macadamias by Edward D Duck
Dark, Milk & White Chocolate Over Honey Roasted Macadamias by Edward D Duck
Honey Roasted Macadamias by Edward D Duck
Milk Chocolate Over Honey Roasted Macadamias by Edward D Duck
Roasted & Sea Salted Macadamias by Edward D Duck
Rosemary & Sea Salted Macadamias by Edward D Duck
Wasabi Macadamias by Edward D Duck
Mini Trios
No need to choose! With the Mini Trios, you get 3 couverture chocolate coated premium macadamias in milk, white and dark, all presented in a sweet little gift box.
Pure Macadamia Honey
A lush, premium honey that displays complex aromas of malt and caramel, with light fruity notes. Duck Creek honey is 100% pure macadamia honey made from the nectar of macadamia flowers from local farms. It can be spread on toast or enjoyed in salad dressings and marinades. Available in 250g and 500g jars.
Macadamia Fudge
Fudge fans will clamour for Duck Creek's macadamia fudge. Handmade in Byron Bay, it's exquisitely buttery, decadently sweet and melts in the mouth. Available in two sizes, 100g and 200g.
Lemon Myrtle Macadamia Fudge
Salted Caramel Macadamia Fudge
Gift hamper businesses
There's a Duck Creek Macadamia format to suit all your hamper needs. From mini packs and reusable jars through to premium gifting tins, it's easy to create an outstanding hamper featuring this proud Byron Bay brand. Don't forget to mix things up and add the fudge and honey too!
Gift stores
Duck Creek Macadamia makes it possible for everyone to afford a special gift. Stock your shelves with products of various values and keep stocks at point of sale where your customers won't be able to resist grabbing a pack for themselves or to take along to a barbecue or dinner party.
For more information or to place an order, contact Duck Creek Macadamias today.
---
More information about Duck Creek Macadamias
Duck Creek Macadamias Product Catalogue
At Duck Creek Macadamias we pride ourselves on delivering only the freshest, premium grade macadamias to both you and your customers. Browse our product catalogue for more info. Click here