Fiss Sweets Baklava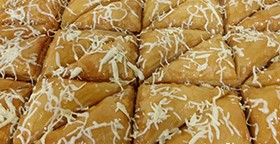 Service Area Australia Wide
Service Area Australia Wide
Fiss Sweets Baklava
Wholesale Baklava Suppliers
Fiss Sweets makes traditional Middle Eastern baklava to time-honoured recipes using quality ingredients. Available in a range of flavours, including vegan varieties, these popular sweets are loved by consumers of all cultures.
Baklava
Rich, sweet and flaky, baklava is layers of filo pastry filled with crushed nuts and sweetened with honey (or, in the vegan variety, syrup). Served as a sweet to enjoy with coffee in Greece, Lebanon, Turkey, Israel, Jordan and many other nations, it is often seen in different variations. Fiss Sweets offers four mouth-watering flavours.
Classic Baklava – Traditional Middle Eastern baklava baked until golden and sliced into triangle servings.
Lady Finger Baklava – Cigar-shaped rolls of baklava that can easily be balanced on top of a takeaway coffee mug, or served as part of a delectable dessert.
Chocolate Baklava – The chocoholic's favourite, it's baklava drizzled with chocolate, making it even more irresistible.
Coconut Baklava – A slight twist on the iconic recipe featuring coconut as an enhancing flavour.
Retailers
Fiss Sweets offers their wholesale baklava and halva in transparent retail packs for maximum visual impact. Ideal for supermarkets, convenience stores, bakeries, delicatessens, greengrocers, variety outlets and ethnic grocers.
Foodservice
Serve Fiss Sweets' traditional baklava and halva in your café, restaurant, canteen, club, pub or dessert bar. They can be served on their own with tea, coffee or liqueurs or you can create beautiful desserts. Garnish with whipped cream or with extra syrup, crushed nuts, fruit coulis or ice cream.
To find out more or to place an order, contact Fiss Sweets today.