Get Farmed! Muesli and Porridge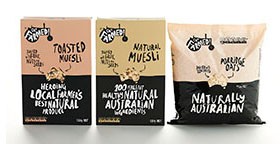 Get Farmed! Muesli and Porridge
Wholesale Muesli and Porridge
Get Farmed! are excited to introduce their new range of mueslis and oats for the ultimate healthy breakfast for your customers. The muesli products are proudly 100% Australian grown, owned and made.
"We are purists in every sense of the word by making sure we select only Australian premium ingredients. By doing this we are supporting local farmers and manufacturers and supporting local jobs."
- Lynne Skene, food scientist and Get Farmed! founder
The provenance of all Get Farmed's ingredients can be traced directly to farmers in regions across Australia. Nothing is added to the mueslis but premium Australian ingredients - oats, nuts, dried fruits and seeds - and the almonds are even sliced with the skin on to give a great eating texture while adding extra fibre to breakfast. Due to dry toasting of the oats and blending with natural wholegrain oats, the Toasted Muesli is extremely low in fat - so you get the added crunch without the added calories!
Get Farmed! Natural Muesli 500g
Treat your body kindly with a healthful, satisfying breakfast from Get Farmed! Their Natural Muesli is a delicious blend of wholegrain rolled oats studded with South Australian dried fruit, almonds and sunflower seeds. Douse it in milk or scoop a creamy yoghurt over the top. Sprinkle with cinnamon or drizzle honey over for added sweetness.
Get Farmed! Toasted Muesli 500g
Enjoy a delicious blend of toasted and natural oats, almonds, fruit and seeds. A wonderful source of fibre, low in saturated fat and salt. Savour the flavour and texture of South Australian grown apricots, sultanas and currants as you tuck into brekky. No need to add anything but your favourite milk or yoghurt.
Get Farmed! Porridge Oats 750g
The perfect start to your day! Loaded with wholesome goodness, there's nothing better than a steaming hot bowl of creamy porridge. It's an excellent source of fibre and is low in salt and saturated fat. Add your own flavourings to taste. Sweeten with good Aussie honey, add texture with chopped dried fruits or sprinkle over coconut flakes and sultanas.
Retailers
Get Farmed!'s cool packaging will draw your customers' eyes to the products on display. Once they read the label, they'll know they're buying something outstandingly good for them, made with 100% healthy, natural Australian ingredients. Position with your breakfast products or companion items such as yoghurt, milk or fresh fruits.
Foodservice
Serve your customers undeniably healthy breakfast products from Get Farmed! Aside from being filling and wholesome, they're also delicious and all-Australian! Please enquire about our single serve sachets which will look enticing in any breakfast pack or as part of your buffet.
To place your first order, contact Get Farmed! today.