Handsome Devils Co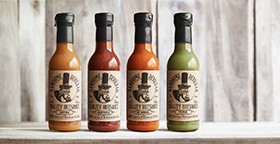 Service Area Australia Wide
Service Area Australia Wide
Handsome Devils Co
Handsome Devils Co
Handsome Devils Co. crafts a range of high quality products for people who enjoy the finer things in life. Among them are four different exquisite hot sauces, that achieve full flavour from the skilful blending of ingredients. The focus on emphasising flavour rather than heat, enhances your meal rather than overpowering it. Featuring only natural, first-rate ingredients, crafted into addictive recipes, Handsome Devils Co's Chipotle Sauce, De Arbol Sauce, Savina Sauce and Verde Sauce are hand-made in Australia to achieve hot sauce perfection.
Handsome Devils Co Chipotle Sauce 250ml
Heat level: Medium
A sweet and smoky treat, HDC Chipotle blends quality smoke-dried jalapeno chillies with a dark and intriguing concoction of spices. Thick-bodied and rich, it perfectly marries flavour and heat for the perfect enhancement of barbecued meats, homemade burritos and eggs. Ingredients: Water, vinegar, lime juice, tomato paste, smoked jalapeno peppers, onion, honey, garlic, salt, spices.
Handsome Devils Co de Arbol 250ml
Heat level: Medium
Known as The Red Knight, HDC de Arbol contains two kinds of chillies, a good dose of vinegar and a clever selection of spices to produce a classic Mexican red-hot sauce with serious flavour. Pour liberally over everything you enjoy! Ingredients: Chilli peppers, water, vinegar, lime juice, onion, tomato paste, salt, garlic, spices.
Handsome Devils Co Savina 250ml
Heat level: Hot
Touted as a 'party in your mouth', HDC Savina's flavour is built upon the legendary habanero chilli and also features the unique combination of coriander and mango. She might seem fruity and sweet, but she packs a punch as well. An all-natural list of ingredients gives this sauce a wonderful kick. Let her burn alongside all your favourite meat dishes, vegetables or eggs. Ingredients; Water, vinegar, tomato paste, onion, lime juice, coriander, dried mango, salt, spices, habanero peppers.
Handsome Devils Co Verde 250ml
Heat level: Mild
Tangy, herby and well, verdant, HDC Verde is a blend of crisp green tomatoes with a zesty bunch of herbs and spices. It all adds up to a green devil of a sauce. Use it as a dip or drizzle over fish, fresh salads, tacos or whatever else you desire.
Who needs the Handsome Devils Co?
The sauces will find their ideal footing in gourmet retail stores where they can be positioned with appropriate aplomb. The perfect stockists include:
Delicatessens
Greengrocers
Gourmet butcheries
Ingredients speciality stores
Cheese rooms
Mexican/South American foods stockists
Food halls
Artisanal food showcases
Gourmet market stalls
Craft breweries
Pubs / Bars
Restaurants / Cafes / Caterers
To enquire about stocking Handsome Devils Co hot sauces in your store, simply make contact today.
---
More information about Handsome Devils Co
Interview - Ryan Brown - Handsome Devils Co
We love a product that offers a good dose of novelty along with a significant measure of true quality. And when it's packaged with serious street cred as well, then it's a winner all round. Handsome Devils Co Hot Sauces tick all the boxes for the modern gentleman who appreciates greater depth of flavour and clever branding in one smooooth package. We spoke with Ryan Brown, Owner, Creator, Chef, Salesman, Advertiser, Marketing, Distributor and Warehouse Manager. Click here