Happy Popcorn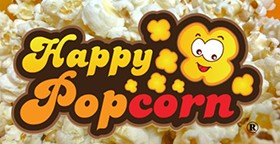 Happy Popcorn
Happy Popcorn
Distributors sought for artisanal popcorn range
Happy Popcorn offers a range of flavoured popcorn products designed to appeal to customers with sweet and savoury tastes. Their artisanal popcorn goes beyond the standard buttery and salted variety.
Produced in Australia using local sugar, salt and seasonings, the popcorn is free from genetically modified ingredients. Neither too rich nor too heavily coated and packaged in transparent, resealable stand-up pouches so customers can see what's inside, Happy Popcorn is an ideal offering for an array of retail and foodservice businesses.
Gluten free
Nut free
GMO free
Palm oil free
Kosher parve
Source of fibre
Suitable for vegetarians
Flavours
Choose from:
Sweet & Salty
Caramel Glazed
Retailers
Introduce Happy Popcorn to your supermarket, convenience store, delicatessen and confectionery outlet customers and petrol stations and newsagents.
Foodservice
Happy Popcorn is ideal for pubs, motels, kiosks, cafes, dessert cafes, sports centres, children's activity centres, cinemas and more.
To express interest in becoming a Distributor for this unique brand, contact Happy Popcorn today using the form below.