Happy Popcorn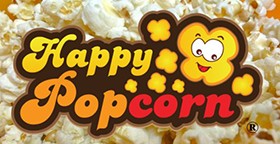 Happy Popcorn
Wholesale Popcorn Supplier
Happy Popcorn creates gourmet popcorn to delight your customers' tastebuds. Popcorn doesn't have to be just buttery and salted anymore.
Produced in Australia to cater for a wide variety of tastes, Happy Popcorn use only quality ingredients to minimise the presence of allergens. It is free from genetically modified ingredients and the company's strict selection of corn maintains its flavour. They ensure the popcorn is neither too rich nor too heavily coated. The sugar, salt and seasonings are all Australian-produced however they choose quality imported oil to enhance the flavour.
Gluten free
Nut free
GMO free
Palm oil free
Kosher pareve
Source of fibre
Suitable for vegetarians
6 months shelf life
100% Australian ingredients
Flavours
Packaged in transparent, resealable stand-up pouches, Happy Popcorn is irresistible to customers! Choose from two flavours:
Sweet & Salty 100g
Caramel Glazed 125g
Happy Popcorn also offers large 2-3kg party bags in these flavours, as well as Salted.
Mushroom Popcorn Kernels
You can also purchase mushroom popcorn kernels in a 1kg stand-up pouch from Happy Popcorn. The kernels are much bigger and rounder than what is typically available in supermarkets.
Retailers
Happy Popcorn is suitable for supermarkets, convenience stores, delicatessens, confectionery outlets, petrol stations and newsagents. Try offering taste tests and your customers will be hooked.
Foodservice
Serve Happy Popcorn in your foodservice business. Loved by adults as well as kids, it is ideal for sports centres such as roller and ice skating rinks, skate centres, indoor playgrounds, ten pin bowling and children's activities. Also a welcome snack in pubs, motels and kiosks. Incorporate Happy Popcorn in your desserts, breakfast cereals and trail mix.
Happy Popcorn cater for any types of fundraising. Please contact them directly for any enquiries.
For more information or to place an order, contact Happy Popcorn today.
---
More information about Happy Popcorn
Interview - Happy Popcorn
Popcorn is such a popular snack right across Australia and through Happy Popcorn, you can have non-GMO corn in flavours that are gluten free, dairy free and nut free. Find out more about this exciting brand and how you can use it in your business. Click here