Henry Langdon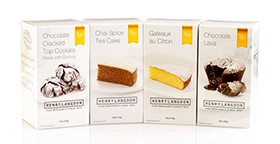 Henry Langdon
Gluten Free Cake and Cookie Mixes
The Henry Langdon company has an esteemed merchant history dating back to 1852. Today, among other products, they offer top quality wholesale gluten free cake and cookie mixes.
From the beautiful photos on the stylish packs to the quality ingredients within, the mixes are sure to have everyone wanting a taste, whether they require gluten free foods or not. Henry Langdon proudly gives home cooks the opportunity to create wicked gluten free desserts in their own kitchen, which look like they're out of a specialist bakery.
Henry Langdon Gluten Free Chocolate Lava Cake Mix
Can you believe it? Just add a little oil and water, mix and put into small ramekins. In just 10-15 minutes, you'll have a mouth-watering dessert that would not look out of place on the menu of a fine dining restaurant. Serve with cream or ice cream and a spoonful of fresh berries.
Henry Langdon Gluten Free Gateaux au Citron Mix
Well if this doesn't elegantly call ladies to a high tea, we don't know what would! Featuring the authentic flavours of France, this light, fluffy cake mix will be mistaken for its gluten-laced counterpart, yet is completely safe for coeliacs to enjoy. Serve for morning or afternoon tea with glee.
Henry Langdon Gluten Free Chai Spice Tea Cake Mix
This one is definitely something different but no less wonderful! It is a spicy tea cake style mix that can be adapted to many variations. Deliciously fragrant and as comforting as a cosy blanket, it is delicately spiced so as not to be overpowering. Add some grated carrot and crushed pineapple to the mix to create a special occasion cake that can be topped with cream cheese frosting.
Henry Langdon Gluten Free Chocolate Cracked Cookie Mix
Oh, temptation! Designed to delight and surprise, these little cookies have a heart of quinoa and chocolate and are decorated with the crack of icing sugar. Even more wonderful when paired with a favourite tea blend.
Retailers
Beautifully packaged with style and thoughtfully created to be gluten free yet to taste as good as any other cake or cookie, these mixes are designed to make the home cook shine. Position with complementary ingredients or accompaniments such as fresh cream, chocolates, tea or coffee.
Foodservice
Serve your customers delightful gluten free cakes and cookies by Henry Langdon. The convenient mixes enable you to whip up gluten free delights without having to maintain a comprehensive inventory of ingredients.
To place your first order for gluten free cake and cookie mixes, contact Henry Langdon today.