I Heart Brownies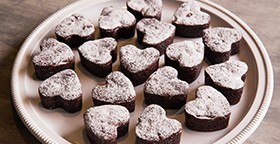 Mobile 0411 311 519
Service Area Brisbane, Sunshine Coast
Visit Website
Mobile 0411 311 519
Service Area Brisbane, Sunshine Coast
I Heart Brownies
All Hand-Made, All Gluten-Free
Since 2012, we've been creating the perfect brownie - and that's just what our customers say. Crispy on the outside, soft and chewy on the inside. The secret lies in our family recipe; each and every heart-shaped brownie is perfectly portioned, and handmade with the best ingredients that coin can buy. No scrimping, absolutely zero nasties and we're proudly 100% gluten-free.
Our Ingredients
Belgian black cocoa, couverture dark chocolate and free-range eggs, our signature gluten-free flour blend, QLD sugar,real butter (nan would be proud) or coconut oil, and all natural flavours
Our Flavours
Our brownies are available in 10 delicious flavours including our Classic Range; Original, Double Chocolate, Cherry Coconut, Jaffa, and Mint. While Raspberry, Triple Chocolate, Peanut Butter and Hazelnut feature on our popular premium menu
Our Prices
We've priced our handmade artisan brownie hearts between $3.30 and $3.80. We recommend they retail between $5.50 - $6.00. It's not too tittle to question quality, or too pricey for a moreish gluten-free treat. For each box of 24 brownies sold, you'll profit $52.80. Add value to the brownie with ice-cream and increase your profit. Or, for a regular, add a coffee and they'll still get change from a tenner, Win, win.
Order Quantities
While there's no maximum on how much goodness we bake into each and every brownie heart, theres a minimum quantity of 24 brownies per order, with a minimum of six brownies per flavour.
Storage and Shelf-Life
Our brownies last for four days at room temperature, three weeks in a refrigerated display and six months in the freezer. And forever in your heart.
Delivery
I Heart Brownies deliver to our wholesale partners free of charge throughout Brisbane and the Sunshine Coast. Intergalactic deliveries extra.