Jammin' Jerk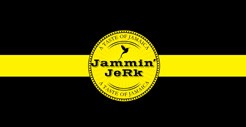 Jammin' Jerk
Jammin' Jerk Traditional Jamaican Marinades
Jammin' Jerk is a flavoursome wholesale marinade paste made in the true Jamaican tradition. The products are developed, tested and manufactured locally and tailored specifically to the Australian palate.
What is Jerk?
Jerk is a traditional marinade from Jamaica. Aside from reggae music, the Jerk style of cooking is the country's most famous export! The marinade is an extraordinarily tasty combination of allspice (called pimento in Jamaica), Scotch bonnet chillies, a sweet variety of habanero, nutmeg, cinnamon, thyme, onions and garlic.
The range
The Jammin' Jerk marinade pastes and BBQ sauce feature traditional Jamaican flavours with the heat of scotch bonnet peppers. They will turn regular meals into super meals! Marinate your favourite meats, seafood or vegetables or add to dips for an extra dimension of heat. Packaged in 250ml glass bottles and jars for retail.
Jammin' Jerk Marinade Paste – Mild
A fabulous flavour booster with mild heat for those who enjoy a subtle kick.
Jammin' Jerk Marinade Paste – Hot
No fooling around; this is for the hotheads who love it spicy. Brace yourself!
Jammin' Jerk BBQ Sauce
Traditional Jamaican sweet and smoky aromatic flavours with the heat of scotch bonnet pepper. Use as a dipping or table sauce.
Retailers
Introduce your customers to something really exciting! Jammin' Jerk's traditional Jamaican marinade pastes and BBQ sauce will fire up their tastebuds in all the right ways. Offer taste tests and recipe suggestions for best results.
Foodservice
Bulk quantities of up to 10kg are available for foodservice.
To place your first order, contact Jammin' Jerk today.