Mamma Marilena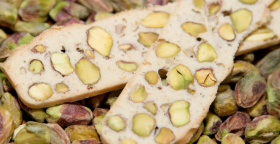 Mamma Marilena
Nut Breads, Shortbreads, Savoury Biscuits, Meringues and Fruit Balls
From humble beginnings as a small family business to a national, innovative brand of gourmet treats – Mamma Marilena products are made by hand from the highest quality fresh ingredients. We endeavour to use Australian made in all aspects of production, from raw ingredients like macadamias and sultanas through to the packaging.
Starting with traditional Italian recipes, as we've grown, our head baker has created new and exciting product lines, including seasonal ranges which make best use of fresh Australian produce. Baked to order, Mamma Marilena's wide range of quality nut breads, shortbreads, savoury biscuits, meringues and fruit balls is sure to impress.
Nut Bread
Mamma Marilena's signature nut breads are made by hand using Australian almonds, macadamias and dried fruits to create innovative new flavour combinations. Nut Bread lovers are sure to enjoy these colourful variations.
Eyes
A feast for the eyes…and the tastebuds, these nutty delights are made with love.
Shortbread
Shortbread might have been made famous by the Scots, but our version will make you think it's pure Italian! A simple yet delicious treat, made the Mamma Marilena way with a range of different shapes and flavours to sooth the tastebuds.
Macaroons
Mamma Marilena's macaroons are made using quality Australian coconut, but it's the addition of fruit and nuts like pistachios and apricot that really makes these macaroons irresistible.
Fruit Balls
You'll go nuts about Mamma Marilena's fruit balls, packed with Australian fruit and nuts, it's the healthier alternative with a delicious twist.
Meringues
Invented by the Swiss, improved upon by the Italians, Mamma Marilena's meringues are nothing short of perfection. Made lovingly by hand, every piece is unique.
Savoury Biscuits
For those who prefer savoury snacks, our made to order biscuits are the perfect accompaniment to dips or salsa. Keep them handy for when your savoury craving takes hold.
Just Nuts
Sometimes all you want is a handful of nuts or dried fruit to satisfy your hunger, but these also make a great addition to any cheese platter!
Gourmet Cookies
From classic favourites like the chocolate-dipped Florentine to Mamma Marilena's version of the traditional ANZAC biscuit, our gourmet cookies are the perfect treat!
---
More information about Mamma Marilena
Mamma Marilena - Wholesale
Mamma Marilena is a small Australian family owned and operated business that produces a fabulous range of gourmet sweet delights. It all started with Almond Bread which was so popular with friends and family that in 2006, Marilena set up her own business so she could share her baking with others. Her range now includes macaroons, shortbreads, butter biscuits, meringues and healthy fruit and nut snacks. Click here
Mamma Marilena's Coffee Shop Range
The new Cafe Series Range from Mamma Marilena is a must have range of cafe biscuits and cafe cookies for all coffee shops, food service and food retail outlets. Products are all individually wrapped and single serve for convenience. Click here
Shortbread
For all shortbread lovers out there, you will adore Mamma Marilena's range of shortbreads. Click here