Melinda's Gluten Free Goodies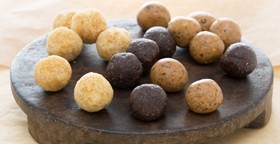 More Images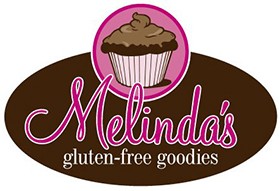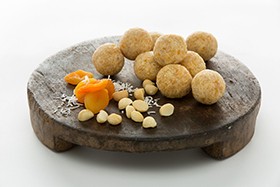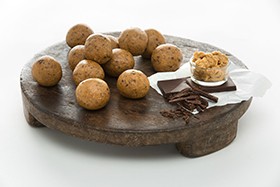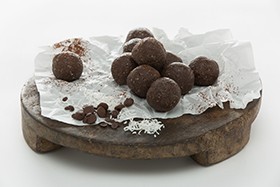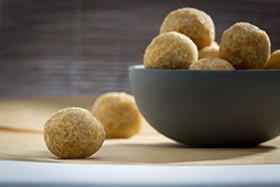 Melinda's Gluten Free Goodies
Famous for its ever-expanding range of gluten free foods, Melinda's Gluten Free Goodies is now in the Protein Balls business too! Recognising the popularity of these health-loaded snacks has led to the introduction of three absolutely scrumptious flavours. Irresistible as a morning or afternoon tea snack, the fact that they're high in protein means they will tide you over until mealtimes, without having to blow the diet. And because they're gluten free, they are suitable for coeliacs and those with gluten intolerance as well.
The Melinda's Gluten Free Goodies difference
Because they don't contain any fillers or other junk ingredients to make them shelf-stable, Melinda's protein balls are supplied frozen. Simply present on platters in your refrigerated display cases so your customers can get a good look at them and choose their preferred flavour.
When a healthy snack is what's called for, you want to be sure that your snack is made with proper attention to detail. Made with only premium ingredients, Melinda's protein balls are nutritious as well as high quality.
Gluten free
Vegan
Dairy free
Egg free
Clean natural ingredients
Handmade
Refined sugar free
Preservative free
No artificial colours or flavours
And two of the varieties are also fructose free!
Vegan Apricot & Macadamia Protein Balls
A scrumptious mix of Byron Bay macadamias, apricots and coconut, with a boost of Melinda's specially sourced vegan protein powder. It's hard to stop at just one.
Peanut Butter Choc Protein Balls
A delicious mix of peanuts and dark chocolate with a boost of Melinda's specially sourced vegan protein powder. Totally irresistible!
Summer Roll Protein Balls
A nostalgic memory of old-school Summer Roll bars, they feature chocolate and coconut as well as a healthy boost of Melinda's specially sourced began protein powder.
Retailers
Offer Melinda's Protein Balls for sale in your health food store, supermarket, convenience store, petrol station or delicatessen.
Foodservice
Melinda's Gluten Free Protein Balls are perfectly suitable for caterers and outlets where large numbers need to be fed quality, wholesome foods. Perfect for school tuckshops, university canteens, corporate lunch and meeting rooms. Also an excellent idea for individual sale at sports clubs, gyms, fitness studios and aquatic centres. Show them off in your café cake cabinet! Sold as frozen boxes of 40 x 30g.
To discuss your requirements, as further questions or to place your first order, contact Melinda's Gluten Free Goodies today via the enquiry form.
---
More information about Melinda's Gluten Free Goodies