Mosaic Patisserie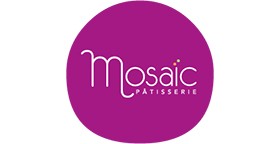 Service Area Within metro Melbourne – any quantity.
Outside metro Melbourne – pallet quantities only.
Visit Website
Service Area Within metro Melbourne – any quantity.
Outside metro Melbourne – pallet quantities only.
Mosaic Patisserie
Mosaic Patisserie
Mosaic Patisserie is a wholesale French patisserie specialising in macarons, ready-to-bake pastries and petite, single-serve cakes. In keeping with French tradition, only the best ingredients go into their products which are supplied to Melbourne's premium retail and foodservice sectors. Every recipe is designed to deliver maximum flavour but minus any excessive sweetness or heaviness. Everything is produced in-house and no premixes or preservatives are ever used.
Distributors are sought to introduce Mosaic Patisserie's ranges of exquisite French delicacies throughout Melbourne.
Macarons
Beautiful to display and delicious to enjoy. Flavours include Cookies & Cream, Vanilla, Salted Caramel, Strawberry, Rosewater, lemon, Pistachio, Raspberry, Hazelnut & Milk Chocolate, Chocolate and Bubble Gum.
Cakes, Slices, Desserts and Tarts
Rocher Slice
Tiramisu Slice
Opera Slice
Raffaello Slice
Passionfruit & Coconut Slice
Snickers Addiction Dessert
Lychee Amour Dessert
Trio Dessert
Orange Lime Pistachio Dessert
Friands – Pear & Hazelnut; Almond & Apricot; Pistachio & Raspberry
Eclairs – Chocolate; Coffee
Chocolate Ganache Cake
Chocolate Fondant Pudding
Baked Raspberry Cheesecake
Strawberry Cold Set Cheesecake
Muffins
Milk Chocolate & Hazelnut Tart
Crumble Pie – Apple; Berry
Lemon Curd Tart
Lemon Meringue Tart
Passionfruit Curd Tart
Raspberry Tart
Strawberry Tart
Amandine Tart – Raspberry; Sour Cherry; Pear & Hazelnut; Apricot & Blueberry
Baby Tarts
Pastries
Croissant
Pain Au Chocolate
Delice Chocolate
Escargot
Pistachio & Raspberry Croissant
Almond Croissant
Danish – Apricot; Sour Cherry; Blueberry
Large Cakes
Tiramisu
Rocher
Raffaello
Passion
Opera
Petitfours
Mini Cakes and Tarts
Gluten Free Baby Cakes
Brownie Cookies
Retailers
Delicatessens, supermarkets, petrol stations, bakeries, book stores and other retailers will welcome Mosaic Patisserie's quality range and appreciate the gorgeous presentation and authentic French flavours.
Foodservice
Supplied frozen, Mosaic Patisserie's range of wholesale cakes, tarts, slices and more means minimal waste and optimal presentation. Each item can be served as-is or transformed into a wonderful dessert. Ideal for restaurants, cafes, tea houses, dessert cafes, hotels, caterers and canteens.
For more information, contact Mosaic Patisserie today by simply completing the form below.