Nuts About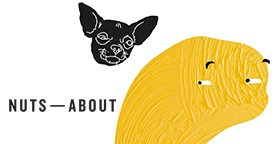 Nuts About
Small-batch, hand-crafted nuts
Nuts About is a 100% Australian owned company that specialises in small-batch, hand-crafted nuts, cooked to order and delivered nice and fresh. What makes them so special is the small-batch cooking which means customers can count on optimum freshness. In addition, they use only the best nuts they can find and never add any preservatives or artificial flavours. Owned by three nutters who became tired of the poor quality of nuts they were encountering in Aussie bars and pubs, Nuts About is determined to be different.
Talented chefs tend to the nuts so that customers receive only the tastiest, freshest nuts in the country, guaranteed!
The company supports the Orangutan Project which helps to rehome orangutans that have been ejected from their natural habitat as a result of deforestation caused by palm oil milling. Palm oil is used by many companies in the nut industry, but never Nuts About!
Premium virtues
All Australian owned and run
Small-batch and hand-crafted
No nasties
Top grade nuts, always
Local ingredients wherever possible
Taste tested regularly
Environmentally conscious
Branding
Nuts About can place your hotel's branding on packaging to personalise your guests' experience. Offer nuts in mini bars, as complimentary welcome treats, on your in-room dining menus and as bar snacks around the pool. Many of Nuts About's hotel customers use the branded nuts for their conferencing requirements. Product can be supplied in volume and an array of customised flavours can be requested to suit the occasion.
The range
Available in 50g packs for retail, hotel mini bars and vending machines or 1kg bags for foodservice and bulk retail, the Nuts About range promises excellence in flavour and freshness. Choose from:
Cashew Original
Cashew Stark Raving Spice
Macadamia Original
Peanuts Original
Retailers
Customers demand the freshest of nuts because when nuts are less-than-fresh, they can turn rancid and taste quite unpleasant. Nuts About's policy of cooking in small batches and delivering fresh means you can always have rapid turnover of stock. Offer customers taste tests so they can taste the difference!
Foodservice
Choose Nuts About for nuts that boast superior freshness and flavour. Use them in your recipes or serve at the bar as complimentary snacks.
To discover more about the products or to place an order, contact Nuts About today.