Nutty Pantry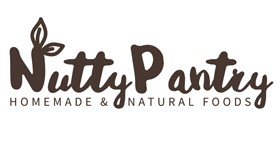 Service Area Australia Wide
Service Area Australia Wide
Nutty Pantry
Granola Distributors Wanted
So many granola products are jam-packed with sugar. Not Nutty Pantry's Deliciously Healthy Granola! Nutty Pantry's owner turned her simple hobby of making healthy granola into a product that is fast becoming a favourite with health-conscious consumers. Free of refined sugar, its ingredient list reads like a who's who of nutritious plant-based goodies: activated buckwheat, almonds, quinoa flakes, walnuts, coconut flakes, chia seeds, pepitas, peanuts, coconut oil, dried cranberries, goji berries, peanut butter, rice malt syrup, mesquite powder, cinnamon. And what's not in it is equally as important. This is a granola that satisfies hunger and flavour cravings, is clean and made with love.
Nutty Pantry's Deliciously Healthy Granola ticks the boxes for a range of consumer types:
100% organic
Vegan
No additives or preservatives
Gluten free
Refined sugar free
Available in Cinnamon & Berry, it's a flavour combination that is always popular.
Distributors are sought to introduce the Nutty Pantry brand into retail outlets and foodservice businesses.
Retail outlets
Ideal for health food stores, vegan and gluten free outlets, supermarkets, delicatessens and convenience stores. Stock your shelves with Nutty Pantry Deliciously Healthy Granola. The see-through pouches draw the eye and customers can instantly see the nutritious ingredients inside. The product is available in packs of 50g, 450g and 750g and can also be purchased without packaging for bulk product retailers.
Foodservice
Ideal for cafes, restaurants, hotels, motels, bed and breakfasts, backpacker hostels and more. It can be served with yoghurt, milk or nut mylks depending on customer preferences. Foodservice businesses appreciate that they can accommodate a range of dietary requirements with one product. It can also be used in recipes including fruit bowls, cookies, pancakes, protein balls and slices.
To express your interest in becoming a Distributor for this proud brand, contact Nutty Pantry today.