Pandelyssi Cheese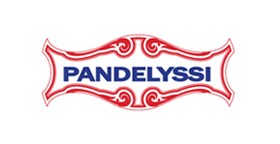 Pandelyssi Cheese
Cheese Distributors Wanted
Pandelyssi are cheesemakers who specialise in original, handmade halloumi. Additionally, they make fetta and ricotta cheese. Every product is created with care and customers appreciate the consistency of quality, flavour and texture delivered time after time. Made by the Kekkou family from Cyprus, the cheeses adhere to ages-old recipes and are handmade in the traditional manner. The ingredients are organic and are sourced from dairies surrounding Brisbane.
Pandelyssi supplies cheese to various vendors at the annual Paniyiri Greek festival in Brisbane as well as the Gold Coast Greek Festival.
Halloumi
A smooth yet firm, versatile cheese with a slightly salty texture. Available in 300g vacuum pack portions, 1kg restaurant blocks and in brine in 2kg tubs. Pandelyssi halloumi can be grilled, grated, fried or marinated. Unlike other halloumi, it stays soft on your plate for longer.
Ricotta
A white, creamy, mild cheese consisting of moist, delicate grains. Available in various vacuum sealed sizes. Use in sweet and savoury dishes, filled pasta, pies, pastries and salads.
Fetta
A white, solid but crumbly cheese with a milky fresh acidity. Available in vacuum pack portions of 300g to 1kg and in brine in 1kg and 2kg tubs. A Greek salad wouldn't be authentic without crumbled fetta. Serve with toast, add to pizza toppings, fill pastries and crumble into soups.
Distributors are sought to introduce the Pandelyssi brand and products to Australian restaurants and delicatessens.
To find out more about being a Pandelyssi distributor, simply complete the enquiry form.
---
More information about Pandelyssi Cheese
Interview - Pantelis Kekkou - Pandelyssi Cheese
The Greeks love their cheese and since halloumi was first introduced to Australia, Aussies have loved Greek cheeses too. For those who prefer their food organic, Pandelyssi offers three very special organic cheeses, including their famous halloumi which Owner/Manager Pantelis Kekkou says has its own unique qualities. Click here