Pastries de Portugal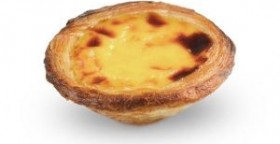 Pastries de Portugal
Pastries de Portugal Pty Ltd are the Australian importer of Panidor products. Panidor is a leading and award-winning European manufacturer of pastry and bakery products, based in Portugal.
As part of their Australian launch, Pastries de Portugal Pty Ltd is introducing three of Panidor's most famous Portuguese dessert delicacies, all of which will be eagerly appreciated by your customers.
Portuguese Tarts (Pastel de Nata)
The Pastel de Nata is considered one of the 20 best culinary experiences by the well-known Lonely Planet (largest travel guide publisher in the world). With a rich history that dates back to the 16th century, the Pastel de Nata is without a doubt one of the most recognizable symbols of the Portuguese culture.
A widely acclaimed and loved dessert, the Pastel de Nata is a one of a kind treat. A wonderful combination of delicious creamy custard and smooth taste and a flaky pastry make it almost impossible to resist.
Panidor faithfully recreates the artisan secret recipe first made by monks and nuns in Portuguese monasteries over 400 years ago and shares this cultural delicacy with consumers from all over the world.
Product Code: 155 072
Weight: 60g
Packaging: 60 pieces per carton
Preparation: Thaw for 18 minutes, 11 minutes in the oven and is ready to serve!
Foodservice and hospitality
Serve authentic Portuguese dessert tarts in your café, restaurant, hotel or other hospitality business. Each stands on its own as a perfect sweet treat but you can accompany the tarts with a latte.
Catering
Pastries de Portugal makes dessert catering easy! Everybody enjoys these delicate tarts which look as appealing as they taste. A smaller 35g version of these (the Mini Pastel de Nata) especially are perfect for passing around on trays.
For more information about these and other products, or to place an order, contact Pastries de Portugal today.
---
More information about Pastries de Portugal
Interview - Joseph Lee - Pastries de Portugal
Portuguese custard tarts have long been a hugely popular delicacy here in Australia, but Portugal has other treats to offer too. We spoke with Joseph Lee, Director of Marketing for Pastries de Portugal and discovered other products that you need to consider offering your customers. Click here