Pink Muesli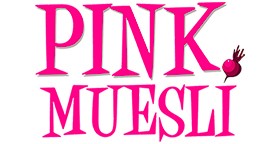 Pink Muesli
Pink Muesli
Award-winning beetroot muesli
Pink Muesli is Australia's first and only artisanal vegetable muesli. It harnesses the health benefits of the wonderful beetroot in a crispy, delicious cereal. It uses three kinds of beetroot and is, at the time of writing, the world's only beetroot-based muesli. The range is designed to offer a variety of tastes to suit different consumers.
Why beetroot?
Beetroot is known to improve blood flow. When Marita, the owner of Pink Muesli, was diagnosed with hypertension, she embarked on her own beetroot therapy, eating it daily and drinking it as tea or juice. After six months, the result was normal blood test levels. Marita began experimenting with beetroot and created her incredible beetroot muesli which is now loved not just for its health benefits but also for its scrumptious flavour. It has already won two awards and is going from strength to strength with many consumers posting glowing reviews on the website and social media.
The range
Choose from six outstanding varieties, each with its own personality, flavour and texture. All of them made with 40-45% raw organic beetroot, vegan, all-natural with no preservatives, and low GI. The beetroot and other superfoods are slowly dehydrated at a low temperature to maintain all the goodness. Pink Muesli also has a fabulous grain-free option..
Pink Muesli with Berries (GF) – A gluten free grain free cereal that contains freshly shredded organic beetroot and a blend of antioxidant-rich berries, coconut flakes, amaranth, sunflower seeds, chia seeds and pepitas and a light drizzle of coconut nectar for sweetening.
Pink Muesli with Citrus & Ginger – Silver medal winner at the 2016 Australian Food Awards, Pink Muesli with Citrus & Ginger tastes like edible potpourri! It contains two kinds of beets – red and Chioggia (pink and white) plus rolled oats, coconut flakes, sunflower, pumpkin and chia seeds, coconut syrup and a generous amount of lemon and orange glace plus crystallised ginger. Beautifully zingy and refreshing.
Pink Muesli with Coconut Caramel Crunch & Almonds (GF) – It's absolutely more-ish muesli, a delicious concoction of raw organic beetroot, rice puffs, coconut flakes, sunflower, pumpkin and chia seeds and Australian almonds, all coated with Pink Muesli's delightful dairy-free, all-coconut caramel sauce.
Pink Muesli with Cinnamon, Carrot, Apple & Raisin (5G) – The most delicious way to eat your vegies, this variety is more than 50 percent vegetables. It features sweet organic raw carrots along with the signature sweet organic raw beetroot. Then there are fresh, tangy green apples and Australian raisins plus five healthful whole grains – rolled oats, triticale, spelt, quinoa and barley. Plus, organic coconut flakes and the super seeds sunflower, pumpkin and chia. Finally, cinnamon adds that familiar warm spicy note.
Premium Pink Muesli with Dark Cacao Puffs & Strawberry (GF) – Awarded a silver medal at the 2017 Australian Food Awards, this one challenges the familiar with this decadent-tasting muesli. Rich, dark raw cacao generously coats every crunchy, nutrient-rich sorghum puff. MACA is added for energy, mood and performance boost and the blend also contains the signature organic red beetroot, coconut flakes and sunflower, chia and pumpkin seeds. It's the ultimate gluten free dessert muesli.
Premium Pink Muesli Christmas Pear & Pistachio (GF) - A seasonal variety made for the Christmas season. The colours, flavours and aromas of Christmas in one special limited edition Pink Muesli! The combination of golden beetroot and red beetroot makes this muesli very cheerful and Christmassy indeed! This festive combination is mixed with gluten-free millet puffs, coconut flakes and three kinds of super nutritious seeds—sunflower, pumpkin and chia. A generous sprinkling of luscious fruit and nuts–green pears and pistachios—and selected Christmas spices finish off this holiday ensemble. Include this in your Yuletide feast, it's a Joy to the World!!
Retailers
Position Pink Muesli in pride of place where your customers can see the vibrant pink product inside the transparent pouches. Offer taste tests and talk about the many wonderful ways it can be enjoyed. Pink Muesli is ideal for health food stores, specialty supermarkets and delicatessens and can be offered by naturopaths, nutritionists, personal trainers and other health practitioners.
Foodservice
Let the pink shine in! Serve Pink Muesli as a breakfast, dessert or snack food in your café, restaurant, B&B, sports club, wellness retreat or hotel. It can be served over ice cream for dessert, with milk, nut mylk or yoghurt for breakfast or along with nuts, cheeses and other nibblies for snacks.
To find out more or to place an order, contact Pink Muesli today using the form below.
---
More information about Pink Muesli
Interview - Marita Valenzuela - Pink Muesli
Beetroot isn't the first vegetable that comes to mind when you think of breakfast but one woman found that if incorporated regularly into the diet, it can reduce hypertension. We spoke with owner of Pink Muesli, Marita Valenzuela who told us about its flavour, texture and novelty superpowers too. Click here