Poacher's Pantry Charcuterie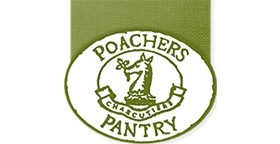 Poacher's Pantry Charcuterie
Premium Smoked Meats
For nearly thirty years, Poacher's Pantry smokehouse has been creating quality wholesale smoked meats for home cooks and professional chefs. In addition to producing the smoked meats, Poacher's Pantry also serve them in their own Smokehouse Restaurant which demonstrates how they stand behind the quality of their products.
Every care is taken to ensure the meats are moist and not too salty, with the perfect level of wood smoked flavour. It is this that makes Poacher's Pantry smoked meats a favourite of leading chefs across the country. The brand is chosen by Qantas and was supplied for catering at the 2000 Sydney Olympics.
Long shelf life, cost-effectiveness and exquisite flavours set Poacher's Pantry apart from competitors. The products enable cooks to create mouth-watering dishes that result in less waste and require less labour, meaning food and wage costs are reduced.
HACCP accredited
Long shelf life
All natural
Multi-award winning
Australian farmed produce
Traditionally cured and smoked
Poacher's Pantry Smoked Meats
On their website, Poacher's Pantry provides a number of recipes featuring their premium smoked meats.
Traditional 7-Day Dry Cure Smoked Bacon (Loin)
Slice and use as a pizza topping or to decorate the top of a savoury flan or frittata.
Traditional 7-Day Dry Cure Smoked Bacon (Streaky)
Finely dice and fry until crispy then add to a Caesar salad. Or, enjoy with eggs, mushrooms and tomatoes for a quality breakfast.
Bresaola
Great on antipasto platters with dips, olives, soft cheese, marinated vegetables and grissini.
Classic Prosciutto
Wonderful wrapped around a peach or fig and grilled until crispy. Or, lay over a chicken breast with a slice of mozzarella, cherry tomatoes and olives then bake.
Poachers Little Ham
Beautifully-smoked ham in a perfectly sized portion that can be sliced freshly every day for sandwiches, pizzas, salads or pasta dishes.
Kangaroo Prosciutto
Delicious on a pizza garnished with rocket and thinly sliced pear added right before serving.
Lamb Prosciutto
A lamb alternative to pork prosciutto, it's ideal for pizzas and antipasto or for gently frying and adding to the top of a pasta or risotto dish.
Smoked Chicken Breast (200g or 400g)
Ready to eat, tender smoked chicken breast is fabulous on sandwiches, in quiches, pies and salads.
Tarragon & Lemon Smoked Chicken Breast (200g or 400g)
Makes a brilliant base for a canape or add to an antipasto platter. Create a smoked chicken pie or toss through a salad with a squeeze of fresh lemon.
Smoked Duck Breast
Easy to serve duck breast, perfectly smoked and versatile enough to be added to ravioli fillings, wontons and cannelloni or chopped and added to roasted vegies for a warm salad.
Sicilian Smoked Chicken Breast
An extra level of flavour courtesy of Sicilian herbs makes this a delicious meat to include in risottos or to chop and stir through hearty soups.
Serve with:
Keep things simple and serve thinly sliced smoked meats with cheeses, bread and antipasto, or create extravagant dishes worthy of any five-star restaurant. With quality this good as your starting point, the rest is easy.
Retailers
Stock Poacher's Pantry in your delicatessen, supermarket, independent grocery store, butcher or food hall. Offer serving suggestions, taste tests and recipe ideas.
Foodservice
Turn to Poacher's Pantry for premium smoked meats that will inspire your menu. Their products are chosen by five-star chefs, caterers and airlines for the quality, variety and consistency.
To find out more or to place your first order, contact Poacher's Pantry today.
---
More information about Poacher's Pantry Charcuterie
Interview - Marcel Schulter - Poacher's Pantry
Poachers Pantry is an artisanal brand of premium wholesale smoked meats. Attached to the Wily Trout Vineyard, it is the epitome of country goodness, taking prime local meats and transforming them into top quality products for consumers to enjoy. We spoke with General Manager, Marcel Schulter and learned that this is a very highly decorated brand. Click here