S Flower Cookies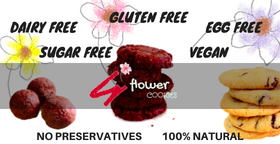 S Flower Cookies
S Flower Cookies supplies an assortment of free-from cookies and snacks that are not only unique, but also scrumptious! The founders of S Flower Cookies were trained at the world's premier culinary arts institute, Le Cordon Bleu Paris. Our mission is to make great tasting free-from foods. We create our own recipes, using the best real food ingredients and free of any preservatives and nasties added, we hope our free-from cookies are as enjoyable as conventional cookies that everyone including people with food allergies can enjoy.
Our product range is:
Gluten free
Dairy free
Egg free
Soy free
Sugar free
Vegan-friendly
No refined sugar
No artificial colouring or flavouring
No preservatives
Only real food ingredients
Endorsed by Coeliac Australia
Now you can buy tasty, honest cookies and snacks that you can serve to friends and loved ones with food intolerances, with total peace of mind.
Product Range
Individual wraps and mini pouches available.
Individual wrapped Gluten Free Vegan Dark Chocolate Chip Cookies 40g
Individual wrapped White Chocolate Macadamia Nut Cookies 28g
Individual wrapped Chocolate Teddy Bear Heart Cookies 20g
Mini pouch Gluten Free Vegan Dark Chocolate Chip Mini Cookies 60g
Mini pouch Sugar Free Dark Chocolate Chip Mini Cookies 60g
Cookies Flavours
Choose from four different flavours of cookie that will become new favourites for your customers in no time at all! They make a wonderful after-school snack, a companion for coffee and tea and fill the hunger gap between meals with a healthier option than the usual sweet treats. Satisfy your customers' chocolate cravings and relieve their boredom with delicious S Flower Cookies.
Gluten Free Vegan Dark Chocolate Chip Cookies
Intense, rich, chocolatey cookies filled with divine couverture and dark chocolate chips. These will keep any chocolate lover satisfied, even those with coeliac disease or who are vegan or vegetarian. Gluten free, egg free, dairy free, vegan. Also available as Mini Cookies.
Gluten Free White Chocolate Cranberry Macadamia Nut Cookies
Soft and buttery, yet salty and sweet all at the same time. These cookies are fluffy in the centre and crispy at the edges, made with premium couverture white Chocolate and filled with sweet dried cranberries and crunchy macadamia nuts. Gluten free, egg free, no preservatives.
Chocolate Teddy Bear Heart Cookies
Made of real cocoa and natural ingredients with no refined sugar, artificial colourings and preservatives, these crunchy, yummy and adorable cookies will keep everyone happy … parents and kids. Gluten free, egg free, soy free, no artificial colours, flavours or preservatives.
Sugar Free Gluten Free Vegan Dark Chocolate Chip Mini Cookies
When avoiding sugar is a priority, these mini cookies are the perfect choice. Made with gluten free, nut free flour and zero sugar. Gluten free, sugar free, egg free, dairy free, vegan.
Retailers
S Flower Cookies are supplied in sealed and certified packaging to prevent cross-contamination. The attractive 'GrabNGo' packaging is easy to carry and store. The packs fit into the pocket, handbag or kid's backpack for convenience. They can be displayed in the attractive countertop box to make it easy for those impulse purchases to happen and your customers on the run. Perfect for gluten free outlets, health food stores, delicatessens, vending machines, health facilities, goodie bags, confectionery stores and to offer for sale in wellness practitioners' offices.
Foodservice
It's always good to be able to accommodate customers with food intolerances, or those who simply have preferences for free-from foods. Keep S Flower Cookies on hand so you can say "yes" when asked if you have anything gluten free, vegan or sugar free. Individually wrapped in eye-catching designs, they are ideal for cafes, juice bars, school tuck shops, canteens, hotel tea rooms, mini bars, airlines, transportation courtesy lounges and food trucks.
To find out more or to place an order, contact S Flower Cookies today.
---
More information about S Flower Cookies
Interview - Judy Yim - S Flower Cookies
Gluten free cookies with additional health credentials? That's what you get from S Flower Cookies. We spoke with Director Judy Yim about the scrumptious cookies and found out just how many different types of customers you can delight with them. Click here