Salt Flakes Kitchen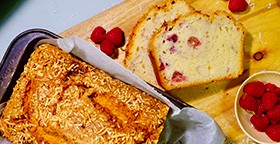 Salt Flakes Kitchen
Wholesale Banana Bread & Fruit Loaves
Salt Flakes Kitchen offers delectable wholesale banana bread and fruit/nut loaves for cafes, restaurants, tea houses, caterers and other foodservice businesses.
Each loaf has a rustic finish with untrimmed edges and is supplied whole and frozen for convenience and to minimise waste. If there is something in particular you want, Salt Flakes Kitchen also offer custom orders and will welcome your call to discuss your requirements.
The range
Banana Bread & Fruit Loaves
Banana bread and fruit loaves are extremely popular among customers looking for a sweet treat that feels homely and wholesome. Each of Salt Flakes Kitchen's loaves is made with love using quality ingredients and baked to golden brown perfection. Serve as is or heat through and serve with butter and preserves.
GF Date & Walnut Loaf – A sturdy, tasty loaf with deep colour, just the right amount of sweetness and plenty of satisfying texture. Decorated with chopped walnuts. Gluten-friendly.
Banana Bread – Everybody's favourite, it has full banana flavour and a tempting golden crust. A spread of real butter over hot banana bread is a classic café offering.
Raspberry Coconut Loaf – A light batter, loads of plump raspberries and a golden top sprinkled with toasted, shredded coconut.
Pear & Cinnamon Loaf – Delicately spiced with cinnamon and ginger, and with delicious flecks of fresh pear.
Retailers
Offer your customers wonderful banana bread and fruit loaves that will have their mouths watering on sight. Ideal for supermarkets, convenience stores, delicatessens, greengrocers, market stalls and more.
Foodservice
Serve your customers banana bread and fruit loaves they'll enjoy for morning or afternoon tea and even at corporate events. They're easy to serve, delicious to eat and you can cut them to your desired thickness.
For more information or to place an order, contact Salt Flakes Kitchen today.