Stubborn Olive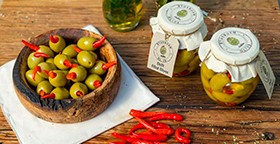 Stubborn Olive
Stubborn Olive
Stubborn Olive is a Sydney brand that offers hand stuffed and marinated olives for home consumers and professional cooks and foodservice outlets. They use only the best olives and apply traditional European methods, incorporating innovative and sustainable practices.
The olives offer a shelf life of three to six months, depending on the stuffing. Delivery is available throughout Sydney.
The range
Filled Olives
Chilli Filled Olives – Greek green olives stuffed with crunchy, hot pickled chilli. It features a slight burn with the chilli complementing the olive beautifully.
Feta Filled Olives – Firm, crisp Greek olives filled with creamy fresh Australian feta. Enjoy as a flavoursome appetiser.
Semi Dried Tomato Filled Olives – A green salty olive stuffed with marinated slivers of semi dried tomatoes. These make a wonderful savoury addition to any cheese board or platter.
Almond Filled Olives – The divine crunch of roasted almonds works perfectly with the tender olive. Enjoy with a glass of wine.
Garlic Filled Olives – Firm, crisp olives filled with roasted garlic slivers. Roasted garlic is sweeter and softer, and the odour is minimised. An ideal appetiser to serve with beer, cheese and crackers.
Anchovy Filled Olives – Green Greek olives filled with salty anchovy fillets. The pungent, fishy flavour of the anchovies pairs well with the olive flavour. Martini lovers adore these.
Mixed Olives
Three of the world's most loved olives – Greek, Sicilian and Kalamata – in a single jar! Each has its own flavour profile and different texture. Makes a great gift, or serve in a bowl alongside other antipasto foods.
Stuffed Peppers
Feta Filled Bell Peppers – Sweet South African baby peppers are stuffed with Australian feta. Perfect for any antipasto spread or to roughly chop and stir through salads, risottos or pasta dishes.
Retailers
Suitable for supermarkets, delicatessens, food halls, greengrocers and health food stores, Stubborn Olive's products offer a variety of options to match consumer tastes. Attractively packaged in transparent glass jars with calico-covered lids, they make excellent gifts or take-alongs to barbecues and other events.
Foodservice
Stubborn Olive can supply their products in bulk quantities for restaurants, service delis, food manufacturers and other clients. Olives are available in 2.5kg, Mixed Olives in 3kg and Stuffed Peppers in 1.2kg.
To find out more or to place an order, contact Stubborn Olive using the form below.
---
More information about Stubborn Olive
Interview - Tanya Jovanovic - Stubborn Olive
Olives tick so many boxes with today's consumers. Healthful, delicious and a key ingredient of the Mediterranean Diet, they are enjoying increasing popularity. We spoke with Tanya Jovanovic, owner of The Stubborn Olive about the health benefits and the different ways their olives are being served. Click here