Sweethearts Gluten Free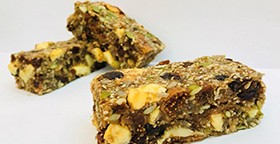 Sweethearts Gluten Free
Gluten Free Cakes, Slices, Desserts & Cookies
For quality wholesale gluten free cakes, cheesecakes, slices and cookies, Sweethearts has plenty to offer. Owned and lovingly run by three Dads since its inception in 1996, Sweethearts' aim is to make foodservice and catering easier for your business. Instead of baking everything from scratch, purchase delicious, baked-fresh gluten free goodies and you won't have to worry about cross-contamination in your kitchen.
Everything is manufactured in the company's HACCP certified facility meaning you can have confidence in the highest standards of food production, ingredient quality and product consistency.
All products are available as individual serves which is good news for economy as you only put out what is purchased.
Gluten free cakes and cheesecakes
These decadent 3.5-inch individual desserts can be sold as is in a retail environment, packaged in an attractive, transparent takeaway container, or served with cream, ice cream, coulis or other accompaniments as an indulgent dessert. They are beautiful to look at and will spoil your customers for other gluten free cakes and cheesecakes!
Wildberry Cheesecake – Ruby red jelly studded with fruits makes this cheesecake a stunner for your display cabinet.
New York Cheesecake – Classic cheesecake topped with a delicate powdering of sugar.
Flourless Chocolate – No one can resist this chocolate cake, dusted with cocoa powder and icing sugar.
Salt Caramel Macadamia – Like a macadamia sundae in cheesecake form, this one will be an instant hit with all your customers, not just those looking for gluten free desserts.
Flourless Orange-Almond – Slightly virtuous but nonetheless extremely tasty, its glazed orange top is scattered with green pepitas.
Nutella Cheesecake – Nutella remains one of the world's most popular sweet foods and here it is, in cheesecake form!
Lemon Poppy – Citrusy and golden, it's studded with tiny black poppy seeds for added texture and flavour.
Gluten free slices
Everybody loves a good caramel slice and when they're gluten free, no one has to miss out. Sweethearts also offer two other sublime slices that will tantalise your gluten free customers into purchasing a treat.
Caramel Slice – Be sure to have these on hand or face the wrath of a sweet-toothed caramel lover!
Salt-Caramel Macadamia Slice – On-trend salted caramel mixes it with chopped macadamias with scrumptious results.
SuperFood Health Slice – Also nut free, dairy free and refined sugar free, it contains quinoa, chia and fig.
Gluten free biscuits and cookies
From a virtuous superfood cookie to the satisfying white-choc macadamia and a fun rainbow pebbles cookie for the little ones, Sweethearts thinks of everything.
Superfood Apricot & Quinoa Cookies – A very satisfying texture and yummy superfood flavours make this a cookie you can devour over two sittings.
Retailers
Sweethearts' range of gluten free cakes, slices, cookies and cheesecakes offer plenty of variety for your gluten free customers to choose from. Keep them on display at point of sale or in your refrigerated case. Order different flavours week by week to keep things interesting and customers coming back for more.
Foodservice
Ideal for gluten free outlets, cafes, restaurants, bakeries, cafeterias, kiosks and wherever gluten free-seeking customers are gathering to chat, pass the time and enjoy something sweet. Keep where visibility is high and always suggest purchasing a cake, cookie or slice with coffee, lunch or dinner.
To enquire further or to place an order, contact Sweethearts Cakes & Cookies today using the form below.
---
More information about Sweethearts Gluten Free
Sweethearts' Wholesale Cakes & Cookies
Browse the current catalogue for Sweethearts' Wholesale Cakes & Cookies. Click here
Interview - Sweethearts Cakes & Cookies
Sweethearts Cakes & Cookies is churning out gorgeous, high quality, high value cakes, slices, cookies and muffins to the gourmet cafe market. We had a chat with the boys behind the business and learned why ready-made is the new black in cafe circles. Click here