Terra Firma Foods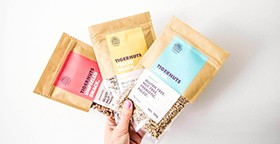 More Images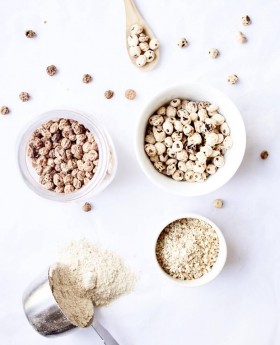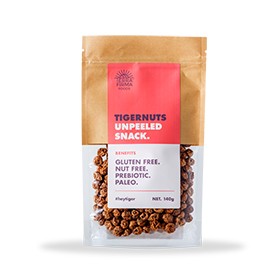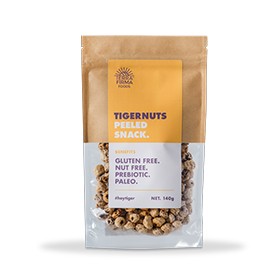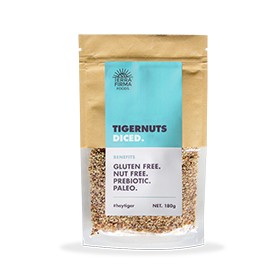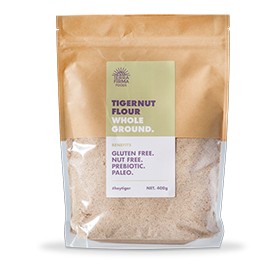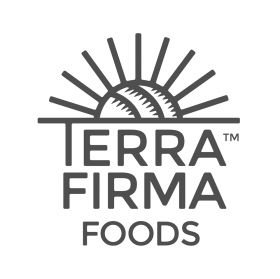 Terra Firma Foods
Wholesale Tigernut Products
Terra Firma Foods is a wholesale supplier of tigernut products for the Australian market. Tigernuts are a gluten free, Paleo-appropriate and prebiotic snack food and the ground product can be used as a flour.
The company is owned and run by two sisters who are passionate about the importance of real food, how different foods nourish and affect the body and the complex chemical reactions that take place inside it. On an overseas trip, the sisters discovered tigernuts and, aside from enjoying the sweet, nutty taste, they found that the health benefits were extraordinary. Today, Terra Firma Foods proudly sources tigernuts that are GMO-free, from sustainable farmers in southern Spain.
What are tigernuts?
Contrary to the name, tigernuts are actually not nuts. They are tiny tubers – root vegetables – a grass-like species that is native to Africa. They are one of the oldest sources of nutrition in the world. Very high in fibre, they are a prime source of resistant starch, a prebiotic starch that acts much like insoluble fibre. Tigernuts additionally contain catalase, lipase and amylase, all digestive enzymes that aid digestive health, improve insulin sensitivity, lower blood sugar levels and assist in counteracting bowel issues.
They are also high in good fats, particularly oleic acid. Abundant in vitamins and minerals, tigernuts are great sources of phosphorous, magnesium, manganese, copper, potassium, calcium, iron and Vitamins C and E.
Tigernuts are non-allergenic as they are completely free from dairy, gluten and nuts.
FODMAP Friendly
High in prebiotics
More iron (gram for gram) than red meat.
High in fibre
High in magnesium
High in vitamins E and C
High in Oleic acid (good fats found in Olive Oil & Avocado)
The range
The snacks can be purchased in resealable stay-fresh pouches. The transparent window allows customers to see exactly what's inside.
Unpeeled Tigernut Snack
The standard, unpeeled tigernut, think of it like a regular almond compared to a blanced almond. These are slightly chewier and a tad sweeter than the peeled ones but they are still a fabulous Paleo-friendly snack. Available in 140g and 400g.
Peeled Tigernut Snack
After harvest, the outer husk is removed to reveal the lovely tigernuts within. The flavour is a little coconutty and a little less chewy than the unpeeled variety so they're a bit easier to eat. Available in 140g and 400g.
Diced Tigernuts
Now you can offer your customers a crushed nuts alternative that they can safely eat. These are the diced version of the standard unpeeled tigernuts. Use atop smoothie bowls, cereal, salads and porridge. Add to gluten free banana cake or muffins, or simply nibble straight from the pack. Available in 180g.
Tigernut Flour
Purely and simply, these are milled tigernuts. They make an excellent allergen-free alternative to wheat and nut flours. All the good fats, resistant starch and fibre, vitamins and minerals are retained and the flour can be used in the same quantities as regular flours. Available in 400g.
Retailers
Tigernuts will be popular in your health food store, delicatessen, specialty grocer, supermarket, greengrocer, snack outlet and allied health practice. Tout the valuable health benefits and offer recipe cards and serving suggestions. Taste tests will sell tigernuts better than any sales pitch!
Foodservice
Terra Firma Foods can supply bulk quantities of their tigernut products for food manufacturing, baking and foodservice. Tigernuts are excellent for food outlets that serve Paleo, FODMAP-friendly and gluten free dishes. Ideal for cafes, restaurants, vegan outlets and more.
To find out more about tigernuts or to place an order, contact Terra Firma Foods today using the contact form.
---
More information about Terra Firma Foods
Interview - Elizabeth Sattler - Terra Firma Foods
Another new superfood has hit the ground running in Australia and it's thanks to Terra Firma Foods. Tigernuts are tasty, highly nutritious and very versatile. We spoke with Co-Founder/Director, Elizabeth Sattler and discovered that they are not actually nuts so even people with nut allergies can enjoy them. Click here