The Camel Milk Co. Australia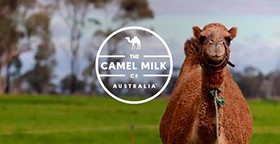 The Camel Milk Co. Australia
Wholesale, Ethically-Produced Camel Milk
Established in northern Victoria as a labour of love, The Camel Milk Co. supplies gently pasteurised camel milk that retains much of the nutritional quality for which it is known in its freshly milked state. It is not homogenised and contains no additives or preservatives. Naturally low in fat and lactose, high in protein and lactoferrin, the milk is excellent for promoting gut health. It does not contain the Beta Lactoglobulin protein (BLg) which is considered one of the main allergens in milk. The only other mammary milk not to contain this is Human milk. People who struggle with traditional dairy can generally enjoy camel milk, so finally a real milk alternative.
Ethically produced
The Camel Milk Co. believes in kindness. Their camels get to remain with their babies, and graze on beautiful green pastures, for a wonderful, carefree life and a sustainable supply of milk.
Health benefits
Camel milk boasts 25% less fat and 25% less lactose content than cow's milk. It's also richer in magnesium, potassium, copper, iron, sodium and zinc, and lower in cholesterol. Furthermore, it has naturally occurring antibacterial and antiviral properties. Camel's milk contains vitamin C and calcium and is lower in saturated fats than cow's milk.
Camel Milk
Available in 250ml, 500ml and 1L bottles. Use it in cooking, enjoy with cereal, add to your tea or coffee or make milkshakes or other milk-based drinks with it.
Camel Milk Powder
Made from 100% camel milk, this powder is freeze-dried to retain the all-important enzymes. Small quantities are frozen on trays and placed under vacuum which ensures the ice evaporates immediately without turning back to water. As a result, most of the flavour, texture and nutrients are guaranteed to stay intact. Simply blend 25g of powder to 225ml of chilled, filtered water, or 100g to 900ml. Camel Milk Powder is convenient for its extended shelf life.
Camel Milk Feta (Lemon Myrtle & Garlic)
Enjoy on crackers, with fruits or nuts or toss through salads or pasta dishes.
Retailers
Stock The Camel Milk Co.'s products in your health food store, delicatessen or supermarket. Be sure to tell customers how well it keeps in the fridge and that they can also freeze it. Be ready with serving suggestions such as custard, milkshakes, puddings and bechamel sauce. Recipes are available on the website.
Foodservice
Add camel milk to your menu by including it in your milk-based drinks or create wonderful new dishes. It's the ideal milk product to serve in cafes known for promoting sustainable food products.
For more information or to place an order, contact The Camel Milk Co. today.