The Healthy Patisserie Co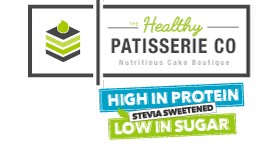 The Healthy Patisserie Co
The sweet snack that loves you back
The Healthy Patisserie Co offers wonderful wholesale sweets that boast high protein and low sugar and carbs. Sweetened with organic Stevia and with premium whey protein in each dessert, they really are a guilt free indulgence. The company has a vision for allowing consumers to reach their health goals whilst still enjoying delicious treats. In fact, even the most health-conscious person will take a second look at dessert and be tempted to dive in.
Choose from slab cakes that can be portioned as desired, individual desserts and sweets that can be served on their own or with your choice of accompaniments, and gorgeous muffins and loaves that look cheeky but are every bit as nutritious and virtuous as all the other products.
Slab Cakes
The Healthy Patisserie Co has put together a stunning range of wholesale slab cakes that you can cut into desired sizes for catering, your café, restaurant or dessert bar. Each contains a good dose of protein and is low sugar, sweetened with Stevia.
Protein Apricot Crumble – Excellent to enjoy in cooler months, this apricot slice goes beautifully with a scoop of vanilla ice cream.
Protein Banana Coconut Slice – Fans of banana cake will love this for its lush banana goodness. It's a bit denser but still moist and moreish.
Protein Carrot Cake – All the flavours you love in a carrot cake, complete with chopped walnuts on top. Light and fluffy, it's ideal for afternoon tea.
Protein Cocoa Slice – A decadent cross between a melt in the mouth cookie and a cake using only the finest cocoa. Why not have a slice after your workout?
Protein Raspberry & Cinnamon Slice – Slightly sweet and slightly bitter but wonderfully guilt free. Pack it in your summer picnic basket.
Protein Red Velvet Slice – You'll be hooked at first bite! It's a colourful, layered sponge cake sandwiched and topped with sweet cream icing.
Protein Vanilla Slice – Sweet, smooth custard makes this vanilla slice a winner.
Protein Walnut Brownie – You won't feel like you're missing out on a thing when you bite into this incredible brownie, topped with chocolate and chopped walnuts.
Individual Desserts and Sweets
Guilt-free desserts and sweets don't come any more delightful than The Healthy Patisserie Co's cookies, cheesecake, soufflé and cakes. Garnish creatively or serve on their own.
Protein Almond Cookie – Munch your way to satisfaction with this scrumptious almond cookie.
Protein Blueberry Crumble Cheesecake – Its rugged exterior belies the lusciousness of the creamy cheesecake filling and blueberry bottom.
Protein Choc Chip Cookie – Crispy outside, chewy inside, this cookie features vanilla dough and chocolate chip chunks.
Protein Chocolate Cream Dome – This gorgeous little chocolate covered dessert is a surprise on the inside with its chocolate and vanilla flavours.
Protein Chocolate Souffle – Wonderfully light but it packs an intense chocolate punch.
Protein Lamington Cake – Revel in the nostalgic flavours of this light, fluffy sponge cake coated in chocolate icing and desiccated coconut.
Protein White Chocolate Dome – Impressive presentation, heavenly smooth texture and delicate flavours make this one a popular dessert to suit most tastes.
Muffins and Loaves
Easy to serve and popular at any time of day, The Healthy Patisserie Co's wholesale muffins and loaves are perfect for any time of day and can be served as is or with a drizzle of coulis, a spoonful of cream or a shake of icing sugar.
Protein Banana Coconut Muffin – Jammed full of tropical flavours and light enough to enjoy for breakfast, morning or afternoon tea or any any-time snack.
Protein Blueberry Muffin – Hugely popular with its tender blueberries, it's divine served warmed.
Protein Chocolate Muffin – Deep chocolatey muffin with chocolate ganache and chopped nuts on top.
Protein Banana Coconut Loaf – Sweet and moist and loaded with tropical flavours. Serve warmed and with butter if desired.
Retailers
Be ready for your customers who are looking for something that won't break the diet but still tastes and looks fabulous. Aside from supermarkets, convenience stores and delicatessens, The Healthy Patisserie Co's wholesale cakes, desserts and muffins will work beautifully in health food stores, greengrocers and bakeries. Try offering grab-and-go muffins and cakes in your petrol station, kiosk or corner store.
Foodservice
The Healthy Patisserie Co makes it easy for you to accommodate your health-conscious customers with their range of high protein, low sugar, low carb desserts and cakes. Serve as is or dress up to be a more substantial, sit-down dessert. Ideal for cafes, restaurants, health cafes, juice bars, food vans, gym cafes, sports centres and school, university and hospital canteens.
To find out more or to place an order, contact The Healthy Patisserie Co today.