The Pastry Lounge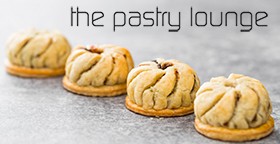 More Images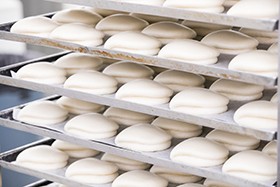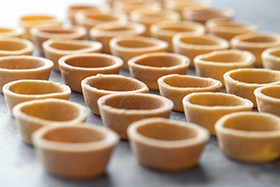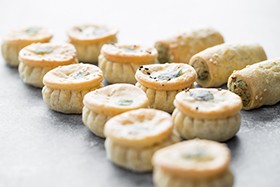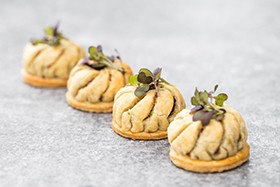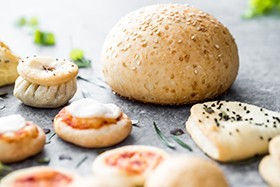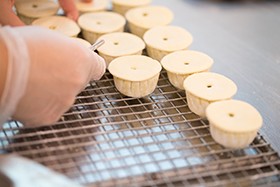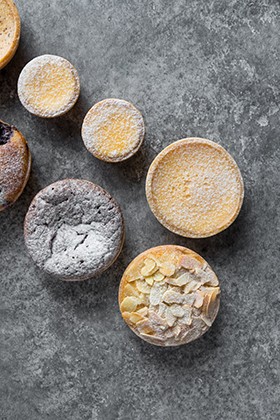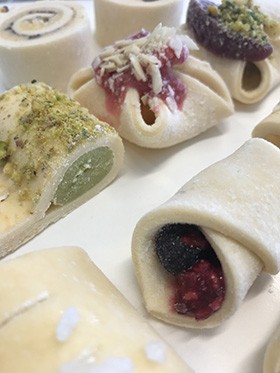 The Pastry Lounge
Gluten Free Range
The Pastry Lounge know how hard it can be to cater to customers and guests with gluten intolerance. The company was established by caterers who are well familiar with the demands of needing to satisfy dietary requirements. Their range of gluten free products will put smiles on faces and make mouths water. Everything is made with fresh, natural ingredients to gourmet recipes. From filled and unfilled sweet and savoury tarts to mini breads and mini pies, The Pastry Lounge's gluten free range offers plenty of variety.
All products are made using certified gluten free ingredients and The Pastry Lounge operates out of a commercial HACCP certified pastry kitchen where the standards are very high.
We are proud to have selected Pastry Lounge products endorsed by Coeliac Australia which is recognition of our commitment to providing gluten free products that comply with the Australian Food Standards Code.
A proportion of the gluten free line is also vegan. The Pastry Lounge make all their own dairy-free butter and cheese from scratch onsite.
The range
Mini Pies & Pasties
Pass around a tray of The Pastry Lounge's gluten free mini pies and pasties and watch them go! Hugely popular and available in a delectable array of gourmet fillings, each one is made from scratch with premium, fresh ingredients. They are beautifully presented for maximum eye appeal and will lend a touch of elegance to your catering.
Beef Burgundy & Mushroom Pie
Lamb Shank & Rosemary Pie
Chicken & Leek Pie
Roast Turkey & Cranberry Pie
Pumpkin & Basil Pie
Truffled Mushroom Pie
Moroccan Sweet Potato Pastie
Pea & Mint Pastie
Traditional Sausage Roll
Spiced Corn Empanada
Vegan Moroccan Wellington
Duck & Quince Pithivier
Tarts
Choose from filled tarts or unfilled tart shells in sweet or savoury. Gluten free and versatile to suit all occasions from casual to very special, there are even a few vegan options so you really can go further towards pleasing everyone.
Tart Shell Sweet
Tart Shell Savoury
Sweet Filled Tart
Savoury Filled Tart
Tomato & Goats Cheese Tart
Pumpkin & Feta Tart
Roasted Vegetable Tart
Savoury Large Rectangle Tart
Vegan Roasted Tomato Tart
Vegan Mushroom & Thyme Tart
Vegan Sweet Tart Shell
Breads
It can be difficult to find interesting gluten free breads. Thanks to The Pastry Lounge, you can offer your customers and guests a variety of options. Even your vegan customers will be happy.
Vegan Slider Bun
Pizza Base
Sweet Sable
Savoury Seeded Sable
Savoury Herbed Sable
Savoury Parmesan Sable
Vegan Bao Bun
Vegan Jackfruit Steamed Bun
Vegan Bark Bread Fennel
Vegan Bark Bread Seeded
Vegan Fennel Bark Bread Chips
Vegan Seeded Bark Bread Chips
Vegan Bagel Mini
Vegan GF Pizza Base (Vegan Mozzarella)
Vegan GF Turkish Bread
Vegan Jackfruit Steamed Bun
Caterers, hospitality and foodservice
Serve your customers and guests the very best gluten free offerings from The Pastry Lounge. Make a fabulous impression and extend the welcome even further to those who require gluten free foods.
To find out more or to place an order, contact The Pastry Lounge today.