Totally Nuts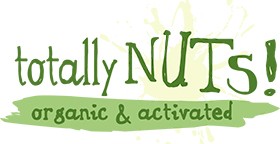 More Images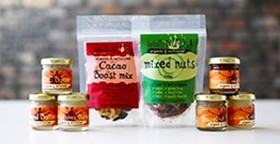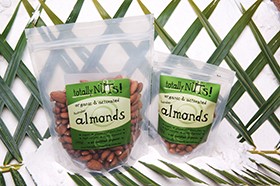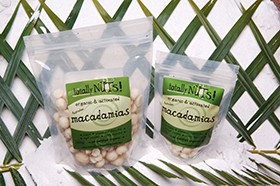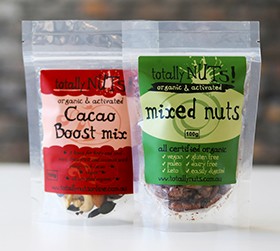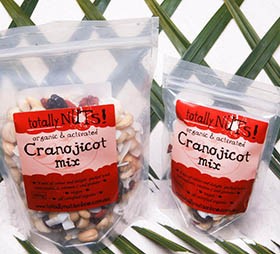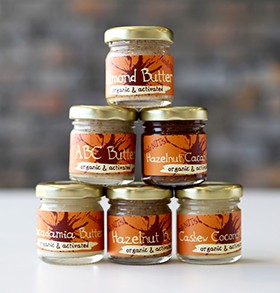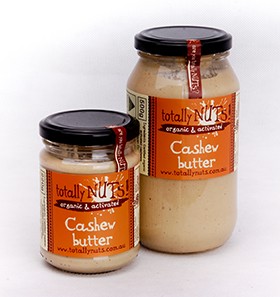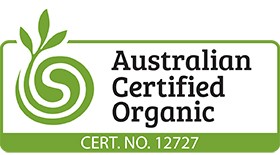 Totally Nuts
Wholesale Organic Activated Nuts and Nut Butters - Vegan-Friendly
Totally Nuts is a certified organic business which has grown from a market stall at the local Gold Coast Organic markets into a healthy and successful business servicing the entire east coast.
All products offered are activated as well as certified organic. In fact, Totally Nuts is ACO-certified organic!
What does 'activated' mean?
Even though raw nuts are an excellent plant-based source of nutrition and protein, they are made even more beneficial and more easily digestible through activation. First, the nuts are soaked to essentially start the germination process, which triggers a whole host of biochemical reactions. This breaks down the phytic acid and enzyme inhibitors. Totally Nuts uses a small amount of Himalayan Crystal Salt when soaking the nuts - this increases the beneficial enzyme activity, and also gives extra taste to the nuts. Then they are dehydrated, otherwise they would start to go mouldy. The dehydration process also improves the flavour. The nuts are dried at a low temperature so as not to denature the fats and proteins. Ultimately, the nuts are crisp, crunchy and surprisingly light.
All certified organic and activated
Gluten free
Dairy free
Vegan friendly
Australian-sourced wherever available
Certified Organic Activated Nuts and Seeds
Enjoy straight from the pack or add to granola, muesli and baking recipes.
Certified organic Activated Almonds
Certified organic Activated Brazil Nuts
Certified organic Activated Cashews
Certified organic Activated Hazelnuts
Certified organic Activated Macadamias
Certified organic Activated Pecans
Certified organic Activated Styrian Pumpkin Seeds
Certified organic Activated Sunflower Seeds
Certified organic Activated Walnuts
Certified organic Activated Mixed Nuts (almonds, Brazil nuts, cashews, hazelnuts, macadamias, pecans and walnuts)
Certified organic Activated Seedy Nut Mix (almonds, macadamias, walnuts, styrian pumpkin seeds and sunflower seeds)
Certified Organic Activated Snack Mixes
These three activated snack mixes combine certified organic activated nuts and seeds with premium quality certified organic dried fruit. Each is very different in flavour and sweetness but brings unique taste and texture satisfaction in its own right.
Certified Organic Activated Cacao Boost Mix – Designed to lift energy and mood, it's loaded with protein and quality fats too. Contains activated almonds, activated cashews, activated pecans, activated styrian pumpkin seeds, flaked coconut, cacao nibs and sultanas.
Certified Organic Activated Cranojicot Mix – A nutrient-dense, colourful mix that your immune system will love. Kids love this blend too! Packed with vitamin C and antioxidants and quality fats. Contains activated cashews, activated macadamias, apricots, goji berries, cranberries and flaked coconut.
Certified Organic Activated Seedy Nut Mix – A scrumptious, crunchy mix of activated nuts and seeds, with no dried fruit therefore no sweetness. Contains activated certified organic almonds, macadamias, walnuts, sunflower seeds and styrian pumpkin seeds.
Certified Organic Activated Nut Butters
Made with only minimal ingredients, Totally Nuts' certified organic activated nut butters provide all the exceptional nutrition and flavour of their activated nuts but in a versatile form.
Certified Organic Activated ABC Butter – Activated almonds, activated Brazil nuts and activated cashews go into this brilliant substitute for peanut butter.
Certified Organic Activated Almond Butter – Made with nothing but activated almonds and smoothed to create a paste you'll want to spread on everything!
Certified Organic Activated Almond Coconut Butter – Activated almond butter with a little twist provided by home-made coconut butter. Only two ingredients: activated almonds and flaked coconut (as coconut butter).
Certified Organic Activated Cashew Butter – Nothing but activated cashews in a satisfying, smooth paste.
Certified Organic Activated Cashew Coconut Butter – Activated organic cashew butter with the addition of creamy coconut butter.
Certified Organic Activated Hazelnut Butter – Rich and creamy and made only from organic activated hazelnuts.
Certified Organic Activated Hazelnut Cacao Spread – The sublime blend you know and love, but organic and activated! Made with only the cleanest, purest ingredients: activated hazelnuts, flaked coconut (as coconut butter), raw cacao powder, dates, coconut oil and vanilla extract.
Certified Organic Activated Macadamia Butter – Made from nothing but organic activated macadamias.
Certified Organic Activated Pecan Butter – Scrumptious pecan butter made with nothing but organic activated pecans.
Certified Organic Activated Nut Butters (6-pack gift box) – Six 40g jars of nutrient-dense nut butters, all organic and activated. Pack includes: ABC, Almond, Cashew Coconut, Hazelnut, Hazelnut Cacao and Macadamia.
Certified Organic Activated Nut Butters (3-pack gift box) – Three 40g jars in each pack. Choose from three themed packs: All Aussie, Indulgent and Protein Hit.
Retailers
Totally Nuts are all about exceptional service to match their outstanding premium products. Talk to them about the best products for your retail outlet. Ideal for supermarkets, market stalls, organic food outlets, greengrocers, delicatessens, health food stores and vegan retailers.
Foodservice
When you make a promise to your customers that you serve only organic, you need to know you can live up to it. Totally Nuts makes it easy to keep your promise. As all their products are certified organic and activated, you can keep your customers happy with every dish or drink you serve.
For more information or to place an order, contact Totally Nuts today.
---
More information about Totally Nuts
Interview - Gemma Hunneyball - Totally Nuts
Activated nuts and seeds are no longer something strange, mysterious and foreign. They're actually the healthiest way to eat them and Gemma Hunneyball, Founder and 'Co-Chief Nutter' at Totally Nuts explains why. Click here