Wellness By Tess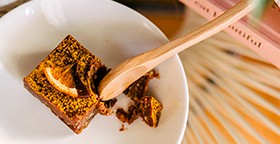 Wellness By Tess
Unbelievably Unnaughty Raw Cake Slices, Protein Balls, Energy Bars and Rawsome Brownies from Wellness by Tess
If you love your treats raw and bursting with flavour and nutrition, then you'll quickly become addicted to the selection of goodies on offer at Wellness by Tess. Every morsel is handmade with care and premium ingredients to be the finest raw sweet snacks you'll find.
Wellness by Tess sells directly to cafes, restaurants and food retailers Australia-wide but also contract manufacture for meal delivery services and large retailers. Who knows, you might be eating Wellness by Tess without even knowing it! Their healthy raw cakes, protein balls, truffles, bars, brownies and buttercups are absolutely perfect for corporate and special event catering or to serve on airlines, in health food cafes and at sports clubs.
Every product is:
Raw
Vegan
100% organic
Gluten free
Dairy free
Refined sugar free
Preservative free
Guilt free!
Jump off the sugar train and dive into Wellness by Tess's sublime sweet treats that won't break the diet budget. Enjoy wholesome, whole ingredients without the side of nasties found in other products.
The range
Protein Balls
Enjoy these scrumptious protein balls as a mid-morning or afternoon snack. Pack them in your gym bag, handbag or backpack for an on-the-go treat.
Coco Loco Protein Ball – If you enjoy Bounty bars then this is a nutritious, healthy alternative. Its coconutty flavour will remind you of pina coladas and sunny holidays. Coconut flour, oil, butter and raw organic protein powder give Coco Loco Protein Balls fantastic flavour and texture.
Hazelnut Crunch – That classic combo of hazelnuts and chocolate makes these so irresistible and they also have plenty of crunch factor!
Chocolate Protein – They look like a popular Christmas treat but they're a whole lot more virtuous with their sprouted brown rice protein powder, dates, almonds and cacao. Totally delish!
Cherry Choc Crunch – Munch on these when you want a cherry hit and a bit of sweetness in your day. Studded with dried cherry and almond, the texture is satisfying and you'll love the flavour.
Salted Caramel Crunch – Doesn't get much better than a salted caramel flavour sensation in a healthy protein ball. Think you can stop at one?
Jaffa Turmeric – Turmeric is the ultimate superfood ingredient, not just for the health benefits but because it's golden and pretty! Pop one of these and you'll instantly feel sunny.
Bars, Brownies & Buttercups
If you taste these and someone tells you they're good for you, you're simply not going to believe it! Wellness by Tess hear it all the time and they just keep on churning them out, utterly delighting and surprising customers on a daily basis. No nasties, just seriously good-for-you treats.
Protein Truffle – Anything called a 'truffle' is bound to be sinful, right? Nope! You munch on these without fear of your halo dropping. Chocolatey, with almonds and dates, they're loaded with protein and coated with dark chocolate.
Rawsome Brownie – Yes, dear, you can have a brownie! Not only can you, but you should! It'll be the highlight of your day.
Triple-C Crunch Bar – A scrummy bar made with lots of love, it tastes similar to the flavours of a caramello koala, without any nasties. It contains Coconut, Cashew and Cacao nibs, hence the Triple-C name.
Salted Caramel Buttercup – Like those popular peanut butter treats but fully loaded with salty, caramel goodness and festooned with sea salt. Not your average afternoon snack!
Hazelbutter Cup – For those who love their hazelnut, this is a mustn't-miss snack. Sweetened with maple syrup and studded with crunchy hazelnuts, it's incredibly moreish.
Vegan 'Nice' Cream – Chomp on one of these and you'll know you're alive. It's got all the right healthy fats, plenty of comforting flavours and it's vegan!
Healthy Raw Cake Slices
Did somebody say 'cake'? You betcha, and Wellness by Tess's healthy versions of some pretty wicked treats will tick all the boxes … healthy, tasty, satisfying and good lookin'.
Jaffa Deluxe – Every little square is rich, comforting and totally delicious. Decorated with turmeric dust and an orange slice garnish for pure prettiness.
Raspberry Tesstimony – Think Neapolitan ice cream but not. It's a triple layered flight of fancy with a gorgeous pink raspberry top and beautiful garnish.
Nutessa – Grab a little block of nutty, chocolatey brownie and power through your day with Nutessa on board.
Tessamisu – You shouldn't have to miss out on your favourite desserts. Tessamisu has the coffee uplift and triple-layered fanciness you want when you're looking for a sweet snack.
White Choc & Caramel – Caramel is always glorious and when it's paired with white chocolate plus a sprinkling of Himalayan sea salt, you can bet it'll be a hit.
Lime & Pistachio – The prettiest green ever in a creamy, dreamy sweet treat, decorated with crushed pistachios and flavoured with lime and a little turmeric.
Golden Tess Time – Wellness by Tess's take on the classic Aussie ice cream fave, the Golden Tess Time has a touch of mesquite for an intriguing flavour note.
Bounty – Here's a bounty you can sink your teeth into and thoroughly love. It features the age-old favourite pairing of dark chocolate with coconut, plus a touch of Himalayan sea salt and vanilla for balance.
Salt Water Tessy – A substantial chunk of delicious flavour and satisfying texture, all put together perfectly in a tasty cube.
Tessero Rocher – The hazelnuts, the cacao, the almonds, cashews and dates … this slice has it going on, and it'll definitely remind you of something else you've loved since you were little!
Retailers
Wellness by Tess products are perfectly suited to greengrocers, delicatessens, independent supermarkets, health food stores and market stalls. They can also be stocked and offered by naturopaths, personal trainers, fitness studios, gyms, hair and beauty salons and boutique retailers.
Foodservice
Serve your customers top quality vegan sweet treats that they'll come back for over and over. Ideal for cafes, coffee vans, airlines, restaurants, juice bars, vegan restaurants and wherever raw foods are in demand.
For more information, contact Wellness by Tess today.
---
More information about Wellness By Tess
Interview - Tess Ulvesund - Wellness by Tess
Everybody loves a sweet product they can happily munch on without guilt! At Wellness by Tess, the goodies are nutritious as well as mischievously delicious. We spoke to founder, Tess Ulvesund and learned what led to the creation of this growing and popular brand. Click here