Whisk & Pin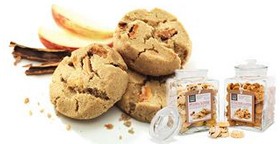 Whisk & Pin
Café Cookies, Bite Size & Gluten Free Cookies
The Whisk & Pin bakery crew start work at 5am every day to bake the cookies that will the orders to go out that day. When Whisk & Pin say their cookies are baked daily to order, they mean it. They also mean it when they say their ingredients are all the best they can find. Their mission statement is: "… to produce 100% of the time without exception, products that are absolutely delicious, using the simplest combination of the finest ingredients." It's what gives them their continuous market advantage.
Wherever possible, Australian wholesome ingredients are used and when local is not possible, then the company sources internationally to the same standard. The oats come straight from a paddock in South Australia and the sun-kissed dried fruit comes from Queensland.
As a handmade gourmet food producer, very little machinery is used so energy consumption is also minimal. Whisk & Pin work to minimise waste by recycling everything they can.
The range
Café Cookies
Whisk & Pin's spectacular café cookies are rolled by hand and baked fresh every day. Each recipe is whipped up using the simplest combination of the finest wholesome ingredients. Almost a meal in itself, each cookie is satisfying and hearty, loaded with flavour and glorious texture.
Almond & Cherry Cookies - A wholesomely stunning cookie packed with almond meal, nutritious rolled oats and gorgeous plump dried cherries. Who knew there could be so much nutrition in something that tastes so good?
Apple & Coconut GF Haystacks - Scrumptiously light and deliciously chewy, these gluten free macaroon-style cookies are shaped like little haystacks and are positively brimming with moist shredded coconut and smooth sweet apple.
Chocolate Brownie - It's the rich 100% Belgian Chocolate that makes these an indulgent, dense, moist and glorious Double Chocolate Brownie. These stunning blocks of chocolaty indulgence are the perfect accompaniment to a sit-down with a coffee - or to grab and go for those on the move.
Chocolate Chip Cookies – Bit of a misnomer, these cookies are crammed full of massive chunks of Belgian chocolate (not chips). With a deliciously chewy centre, they are handmade and baked to order using the simplest combination of the finest wholesome ingredients.
Chocolate Mud GF Cookies - A luxuriously divine and irresistible melt-in-the-mouth gluten free cookie packed with Belgian chocolate chunks. A gorgeous cookie loved by everyone, not just the gluten intolerant!
Desert Road - 100% Belgian white chocolate infused with rich creamy caramel smothering an oasis of sun-dried strawberries, moreish salted macadamias and vanilla marshmallows, all handcrafted into a chunk of delicious enticement.
Fig, Macadamia & Ginger Cookies - Magnificent macadamias, chunks of dried fig and a subtle hint of stem ginger – a symphony of deliciousness. Hand-made and baked to order.
Minni Ha Ha Cookies - Named after the road the bakery sits on, these stunning chocolate chip cookies are liberally sprinkled with rainbows of preservative free colour and kids just love them – (okay, okay, so adults love them too).
Muesli Cookies – The Whisk & Pin Muesli Cookie is at the pinnacle of the cookie world and is their best-selling single product with very good reason. Not only does it look and taste out of this world, but it is also crammed full of wholesome apricots, sultanas, oats, figs, walnuts and currants. In fact, there is so much wholesome goodness going on in there it's surprising there's room for anything else. It is chewy, fruity, nutty, nutritious, wholesome & delicious. It's no secret that many bakers have tried to copy the recipe over time, however these copies come and they go. The Whisk & Pin Muesli cookie remains and has continued to grow year on year since it was first baked back in 1999.
Pistachio & Cranberry Shortbread - A deliciously buttery, hand-made, melt-in-the-mouth classic shortbread with Whisk & Pin's original combination of crunchy pistachios and tangy cranberries. Absolutely delicious!
Rocky Road - Indulgent, seductive, dark 100% Belgian chocolate and luscious ruby-red cranberries hand-mixed with sweet vanilla marshmallows and tender slithers of coconut; all handcrafted into a chunk of delicious enticement.
Snowy Road - 100% creamy white Belgian chocolate mixed with black cherries, tart cranberries, vanilla marshmallows and crunchy pistachios in a deliciously decadent chunk.
White Chocolate & Raspberry Cookies - Crammed full of 100% white Belgian chocolate chunks and sweet, sumptuous raspberries – completely decadent, but hey, you only live once!
Bite-Size Cookies
Handmade with tender loving care, Whisk & Pin's delectable miniatures are irresistible. Boxed in gorgeous packaging with full colour pictures to maximise temptation, they make wonderful gifts. Or, kept in the pantry for unexpected guests, they'll be on hand to impress all who taste them.
Available in an abundance of different flavours, there is something to tempt everyone.
Apple & Cinnamon
Chocolate Chip
Chocolate Mud GF
Desert Road
Fig, Macadamia & Ginger
Hazelnut Espresso
Honey, Banana & Macadamia
Lemon Vanilla Shortbread
Pistachio & Cranberry Shortbread
Rocky Road
Snowy Road
Café Bite-Size Cookies
Packaged in bulk quantities for convenient café service, Whisk & Pin's wholesale bite-size cookies are ready to pop onto a plate or display under your countertop glass dome.
Apple & Cinnamon
Chocolate Chip
Chocolate Mud GF
Desert Road
Fig, Macadamia & Ginger
Hazelnut Espresso
Honey, Banana & Macadamia
Pistachio & Cranberry Shortbread
Rocky Road
Snowy Road
Counter Top Box Cookies
Ready to display at point of sale – right where temptation is bound to strike – are Whisk & Pin's counter top display boxes. Depending on the flavour, they contain 10 or 12 individually wrapped cookies that are perfect for grab-and-go purchases.
Muesli Cookies
Chocolate Chip Cookies
Chocolate Mud GF Cookies
Macadamia, Fig & Ginger Cookies
Minni Ha Ha Cookies
Orange & Currant GF Cookies
Raspberry & White Chocolate Cookies
Pantry Favourites
A pack of Whisk & Pin's favourite cookie flavours, ready to serve when guests arrive or the kids come home looking for something utterly delicious to munch on. Packed in clear cellophane to reveal the scrumptious contents within, they are your sweet fix standby when you haven't had time to bake.
Chocolate Mud GF Cookies
Fig, Macadamia & Ginger Cookies
Muesli Cookies
Pistachio & Cranberry Shortbread
Gluten Free Cookies
Whisk & Pin offers a range of gluten free cookies, some of which are mentioned above. For full details, view the company's website.
Retailers
Never miss an opportunity to cash in on the tummy grumbles dollar. A hearty, satisfying cookie will hit the spot for anyone with a sweet tooth and it might as well be a high quality one. Talk to Whisk & Pin about their range of countertop display boxes, pantry packs and gift packages.
Foodservice
Whisk & Pin present all you need to serve high quality, wholesome cookies to your customers. Choose from an array of formats, from bulk quantities to bite-sized café cookies. Just like homemade, you can serve them with pride knowing that they are a conscientious Aussie brand who put passion into every bite.
To discuss your requirements or to place an order, contact Whisk & Pin today.