Whisk & Pin Gourmet Bakery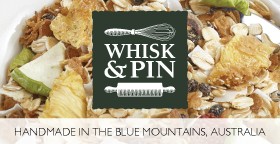 Whisk & Pin Gourmet Bakery
Muesli, Granola & Porridge
"Our mission is to produce 100% of the time without exception, products that are premium grade and absolutely delicious."
Everyday, our small team of bakers, innovators and passionate food creators arrive at our bakery nestled here in the misty Blue Mountains. Ready for another day of hand-rolling, hand-mixing, and hand-packing, we begin freshly making over 100 individually unique products to order. We then distribute across the nation directly to our customer-base of artisan cafés, gourmet delis, luxury accommodations, and independent supermarkets.
Paddock-to-Plate Philosophy
At Whisk & Pin, our philosophy is to create products that are innovative, creative and original, using only the utmost premium Australian produce we can source. Working directly with Australian growers nationally, we ensure the ingredients we use are the very best in quality, and in their most natural state possible. We always strive towards being the benchmark in quality across our entire range of product categories. From the far reaches of tropical Northern Queensland, to the forested hillsides of Tasmania, and every farmer in-between; Australian growers provide the world-class produce that our gourmet products demand.
The Hand-made Difference
Here at the Whisk & Pin bakery we still prepare, cut, blend and mix all of our recipes in small batches to provide a wholefood product that cannot be achieved through high volume machinery. This allows the benefits of flavour, texture and appearance to be as natural and "paddock to plate" as possible. No preservatives, added sugar or salt is added to any of our muesli – so not only is our muesli delicious and wholesome to eat, it looks amazing too. Enjoy the "real" difference!
Gourmet Muesli Range
Every one of our mueslis is still hand-blended, hand-bagged and hand-labelled – as it has always been since we started mixing in 1999. All of our muesli varieties are made fresh to order, with a shelf life of 7 months for roasted, and 9 months for non-roasted.
With a fantastic range of inspiring muesli blends in a variety of formats, Whisk & Pin Muesli will bring the utmost in Australian-made quality to your breakfast menu, morning buffet, retail space, bed & breakfast – and everything else in between!
Product Formats:
80-100g Single Serve Cellos
600g & 1.2kg Retail bags
5kg & 15kg Food service tubs
MOUNTAIN MUESLI – marvellously moreish
100g, 600g & 1.2kg Retail pack; 2kg & 5kg Foodservice tubs
The original embodiment of Whisk & Pin's passion and dedication to wholesome, delicious food. A toasted muesli that is exactly as it should be: crunchy, moreish and with just the right amount of sweetness. The natural sweetness of our granola comes from the Blue Mountains honey – blended by hand through South Australian grown oats, and then lightly toasted to crunchy perfection. A melody of tangy dried cranberries, organic apricots, linseed and gently roasted almonds, give this granola a wonderful nutty chewiness.
GLUTEN FREE MUESLI – fantastically fruity
80g, 500g & 1kg Retail pack; 1.5kg & 4kg Foodservice tubs
Not just for the Gluten-intolerant, our Gluten Free Muesli is something truly admirable. A multi-grained blend with satisfying crunch and texture in its delicate combination of buckwheat, millet, and puffed rice. Our Gluten-Free is jewelled with the stunning and flavoursome dried fruits of far Northern Queensland – Granny-Smith Apple, Strawberry and Orange.
SUMMER MUESLI – sumptuously satisfying
100g, 600g & 1.2kg Retail pack; 5kg & 5kg Foodservice tubs
Celebrating Australian Summers, this muesli will kick-start your day with the dazzling flavours of Queensland's most delicious dried Pineapple, Strawberry and Apple. Aussie paddock-grown oats and wheat flakes make our Summer Muesli a satisfyingly light, yet fantastically crunchy muesli that will always bring a fresh sparkle to your morning.
BERRY CRUNCH GRANOLA – blissfully bursting
600g & 1.2kg Retail pack; 2kg & 5kg Foodservice tubs
An extraordinary combination of the most flavoursome Australian freeze-dried raspberries and blueberries, and crunchy spiced pecans. We carefully hand-blend our Aussie grown oats and triticale, with the sumptuous marriage of Blue Mountains honey and real Canadian organic maple syrup. Lightly baked to absolute crisp perfection, we then add handfuls of top-quality Australian raspberries and blueberries, tart Canadian cranberries, and our specially spiced pecans nuts.
BIRCHER MUESLI – luxuriously zingy
600g & 1.2kg Retail pack; 2kg & 5kg Foodservice tubs
The heart and soul of muesli, the classic Bircher is the ultimate remedy to your ailments. Our Bircher is 100% wheat-free, brimming with the zesty combination of whole ground Lemon, Australian Granny Smith Apple, and the sourness of the exotic Barberry. South Australian oats freshly plucked from the paddocks give this muesli a luxurious creaminess when soaked. For maximum satisfaction, simply soak our Bircher overnight in milk, water or juice, and unleash the luxurious tang.
ORGANIC MUESLI – wonderfully wild & naturally nutty
500g & 1kg Retail pack; 1.5kg & 4kg Foodservice tubs
We created our Organic Muesli to capture the essence of the dedicated Aussie organic farmer. A unique combination of the most delicious and lovingly grown Australian produce we could source – Sun-dried Nashi Pears, Biodynamic freeze-dried apple, wild blueberries, cranberries, and lightly roasted almonds: all blended by hand to create an unparalleled texture, nutty-flavour and that clean-eating feeling.
LEURA NATURAL MUESLI – charmingly chewy
600g & 1.2kg Retail pack; 5kg & 5kg Foodservice tubs
A marvellously multi-grained blend that is stamped with unquestionable character and taste – quite simply the muesli lovers' muesli. Power through your day with the goodness of Australian dried mangoes, banana and oranges, as well as almonds, cashews and wild figs.
WINTER PORRIDGE – hearty & wholesome
600g & 1.2kg Retail pack; 2kg & 5kg Foodservice tubs
Our Winter Porridge is the perfect companion to warm you through those cold days and nights. Brimming with juicy Australian peaches, the creaminess of South Australian paddock-grown oats, the nuttiness of hazelnut meal, and the fragrant hint of spice.